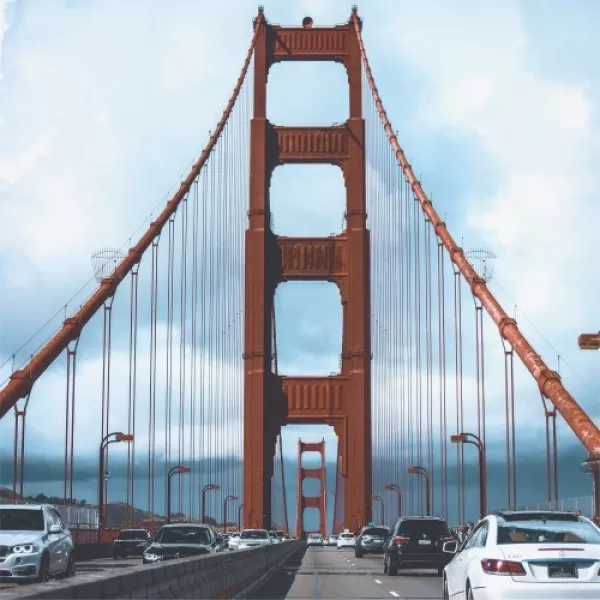 Reliable and efficient vehicle shipping to or from California
Get instant car shipping quotes to or from California. We'll make sure you have all the vehicle shipment information you need and that you get a fair shipping quote.
Nexus Auto Transport is an industry leader in safe and efficient car & truck shipments to and from California
Shipping your car or truck to or from California has never been easier. When you need to ship a car, truck, or specialty vehicle out of or into California, you can breathe easy knowing that our expert vehicle shipping staff is on your side. We've got decades of in-house experience shipping a variety of different cars and trucks, and we only work with the safest and most dependable auto transporters on the road.
When it comes to vehicle shipments in California, we're the best thing going. Vehicle pickups and deliveries in every corner of New York. We work with you!
Do you need your car picked up from your house in California? Are you shipping your truck to your workplace in California? Do you have special considerations and concerns about your prized muscle car?
Whatever the situation is and what vehicle transport questions you have, we have answers. We'll work both hard and smart to deliver your car, truck, or specialty vehicle on your terms!

How it works
Schedule a car shipment online or over the phone.
Schedule a vehicle shipment with Nexus and you'll be surprised at how easy it is! All you have to do is enter your car pickup and car delivery zip codes in our online car shipping quote tool (or give that information to one of our dedicated vehicle transport agents), select your vehicle type and size, choose between open or enclosed auto transport, and pick from a variety of different car shipment scheduling dates.
You're bound to find a fair shipping rate that works for you, or you can pay a bit more for expedited enclosed vehicle transport. It all depends on your needs and the driver availability of our network of car haulers. Reserve your car shipment with a refundable $0 reservation fee. Our low-risk car delivery service is suitable for any budget.
We pick up your car and the vehicle transport journey begins.
One of our expert Nexus auto transport coordinators will work with you to arrange a vehicle pickup date and time which works best for you. When you ship a car direct with Nexus, we do our very best to work around your schedule!
Just prep your vehicle for car hauling by cleaning it inside and out, removing valuable personal items, and making sure there's at least a quarter tank of gas for loading and unloading it off of the car hauler. On car pickup day, you or someone you authorize through Nexus will inspect your vehicle with your driver to notate preexisting damages and other concerns. Once the Bill of Lading and the inspection report are signed, your car will be on its way!
Our car hauling service delivers your vehicle to its destination.
You can contact your car transporter at any time during your vehicle shipment to ask questions about arrival times and anything else that may be on your mind. Our vehicle transport truckers go through rigorous safety and procedural training to ensure that your car is safe every step of the way!
The vehicle transport hauler will come as close to your address as safely and legally possible. Any balance due on your vehicle shipment can be paid to your trucker upon arrival. You or someone you appoint will conduct a final vehicle inspection, sign off on a Bill of Lading, and you're done! Shipping is complex with other car moving companies. But, it's as simple as 1, 2, 3 with Nexus.
How much does it cost to ship a car to or from California?
The cost of California car shipping differs based on specific factors involved in your order. These include the total driving distance of your California auto transport order, the make and model of your vehicle, the time of year you ship a car, your scheduling flexibility, your choice of closed or open car hauling, and the company you pick for California car shipping services.
For more information and to secure an accurate auto transport quote, head over to our instant California car shipping cost calculator. Within seconds, you'll receive multiple quotes for San Francisco auto transport, Los Angeles auto shipping, or routes elsewhere within the great State of California.

How can I ship my car to California?
You can either ship a car to California yourself and take the risk, or save headaches by working with a top-rated California auto transporter like Nexus.
Need a San Francisco auto transport company right away? Looking for a reliable California car shipping company that services coastal towns regularly?
We have drivers ready to service your California car shipping order in your area! Contact us right away or simply head over to our instant car shipping quote calculator to schedule your shipment on your time.

What's the best way to ship your car to California?
It's gotta be Nexus. Thanks to a balance of timely and safe California car shipping, affordability, and exemplary customer service, Nexus has become the most trusted auto transport provider in the state and continues to earn that reputation.
At any time, you can reserve a spot right away and experience our five-star car shipping services for yourself.
That's the Nexus difference. We take the stress out of California car shipping so you can explore the Golden State with ease.

Learn more about the great State of California
The most populous state in the Union with an estimated 39.5 million residents heading into the 2020 Census, California is both a destination state and a transportation nerve center for both the Continental United States and the world. In fact, three of the ten most populous cities in the United States lie within California's borders:

The outlying areas around these cities are also packed in from a population standpoint. Cities such as San Francisco, Anaheim, and the state capital of Sacramento are teeming with diverse populaces and a wide variety of different industries. One key industry that California has been well known for since the dot.com boom of the 1990s is the tech industry. The Silicon Valley in the San Francisco Bay Area brings in workers and companies from all around the world looking to balance themselves on the cutting edge of gadgets, applications, software, and hardware.
Other leading industries within California's borders include biotechnology, aerospace defense, tourism, machinery, manufacturing, and agriculture. In particular, the agricultural imprint of California spreads across the globe. For instance, the city of Gilroy is one of the foremost garlic producers in both the United States and the world. They even put on a yearly Garlic Festival to celebrate their contributions to the greater sphere.
Nicknamed the Golden State thanks to the Gold Rush of the mid-1800s which brought thousands upon thousands of pioneers across the United States in hopes of instant prosperity, California stretches across a vast portion of the West Coast of the country. Boasting an impressive landmass of 155,959 square miles with 58 counties spread out within that space, California is basically an amalgam of several different states within one state.
In the south near the Mexican border, the climate is steaming hot during the summers in tune with the desert topography. Conversely, the northern tip of California which shares a border with Oregon is much more lush and cold with rainstorms throughout the year. Those are just the two extremes, though. If you're thinking about moving to California, you'll be able to find a city or county with the ideal weather for your particular lifestyle. That's one of the beautiful things about California's diverse landscape, and one of the things which draws so many people to emigrate there.
As of 1964, California bypassed New York as the most populous state in the United States. This trend has not abated in recent years, as more United States citizens and immigrants from outside the U.S. find their way to the Golden State than any other state. Immigrants from other countries who settled in California accounted for an amazing one-third of the entire new immigrant populace back in 1994.
What keeps people coming to California? And not only to its major cities, but also growing urban sprawls such as Fresno, Long Beach, and Bakersfield? Well, one thing is that there's so very much to do in California! Not only is California home to 18 of the most beautiful National Forests in the United States, but it's also home to a whopping 278 different state parks and beaches. Whether you want to take your family camping at Yosemite National Park or read by the waves on the Point Reyes National Seashore, you'll never be very far away from complete natural splendor if you make the move to the Golden State.
Natural beauty isn't all that California has to offer. It's also one of the foremost entertainment capitals of the world! Are you a Disney fan? Disneyland isn't just a theme park. It's an attraction that draws tourists into Southern California from every country you can possibly think of. It's a big reason why Anaheim is growing as a city, and the tourism dollars it rakes in provides a huge jolt for the California economy year-round.
California is also home to Hollywood and a burgeoning film industry that sets the bars for other film industries around the world. Hollywood became one of the centers of film production for many reasons, with perhaps the most important being its climate and scenic locale. In Hollywood, you can do outdoor shooting at any point during the year and be greeted with an agreeable climate and diverse topography. While other film industries are making their mark around the world, Hollywood remains a mecca for those looking to make it big in television and cinema.
In short, California is all about setting trends for the rest of the world. This is the case across a wide variety of different niches and industries, with no better example than California's diverse array of food options. With one of the most eclectic groupings of different cultures and food traditions in the entire world, California is home to foods from hundreds upon hundreds of different countries and regions. It boasts one of the biggest Asian populations outside of Asia which has informed the food culture in some interesting and beautiful ways. Looking for a good Thai spot? You'll find one in Eureka and Fresno just the same. Do you want traditional Cantonese without traveling to China? Check out the Chinatown offerings of places like Oakland.
Are you a sports fan? California is definitely for you. The Golden State is home to 19 different professional sports franchises, dozens of other semi-professional sports teams, and hundreds of collegiate teams across a wide swath of different sports. Whether you're looking for someone to root for or just something to do on a Saturday night, California has you covered. You can even catch two different professional sports games on the same day in the San Francisco Bay Area sometimes, considering that it has six different teams in the four major sports. If football is your passion or baseball is your heart, places like Fremont and Union City promise easy access to all the sports that your heart could desire.
And if you are going to sports events in the San Francisco Bay Area or anywhere within California, you have a variety of different transportation options at your disposal to get there. While California has one of the most extensive and organized grids of highways and byways in the entire country, it's also home to a wealth of different public transportation options. The San Francisco Bay Area has both an extensive bus system and BART – Bay Area Rapid Transit. A light-rail system that goes as far north as Pittsburg and as far south as Milpitas, BART is one of the most reliable subway systems in the United States. Many commuters park their cars at one of the system's stations or adjacent parking lots and then use BART to head to work, sporting events, or other events around the Bay Area.
There's just so much to California, and the money doesn't lie. California is home to a sub-national economy of $3 trillion. That's far and away the largest sub-national economy in the world and would qualify as the world's fifth-largest economy if California was its own country. If you're looking for work and heading to California, you're in luck. The Golden State is home to four of the world's ten largest countries in terms of market capitalization, and employment opportunities are usually easy to come by in a wide swath of different fields. Get your resume ready before moving to California. It could be your ticket to a new career!
Looking to be the king or queen of California state trivia? Below is a list of different living and inanimate state symbols for you to wow your friends with:
State Amphibian – California Red-Legged Frog
State Bird – California Quail
State Flower – California Poppy
State Insect – California Dogface Butterfly
State Land Mammal – California Grizzly Bear
State Marine Mammal – Gray Whale
State Tree(s) – Coast Redwood, Giant Sequoia
State Colors – Blue, Gold
State Dance – West Coast Swing
State Gemstone – Benitoite
State Mineral – Native Gold
For the uninitiated, California can be a daunting experience. It's such a huge state with the third-largest landmass in the United States, and there are so many different cultures and subcultures spread across the state. However, California is also known for its laid-back attitude which helps many transplants breathe easier and find their way within its borders. If you're looking for a state to relax and be yourself without much of a problem, you can't do better than one of the most unique states in the Union.
Whether you're looking to be a part of the hustle and bustle of Los Angeles or to camp under the stars in Death Valley and experience some of the wildest climate variances in the continental United States, California is the place to be. Once you transport your car or truck to your new home in the Golden State, you'll be able to drive and see everything the state has to offer with your own two eyes. And believe us, there's a lot to see.

X
For the best price quote for a personalized multi car shipment, please give us a call:
224-218-2949