There are around 4,848 registered auto transport companies across the USA. However, a few of them, like Nexus Auto Transport, really stick out from the pack. So what makes them different? Well, it's due to their hassle-free processes, affordable auto transport costs, and punctual delivery operations.
But don't just take our word for it. The real evidence lies in the stories of happy customers who went from stress to success with Nexus Auto Transport's help.
That said, let's explore six true stories of customers satisfied with the top-notch services offered by Nexus Auto Transport!
1. Professional Handling & Safe Delivery
Customer: Tammy F.
Tammy F. needed a reliable auto transport service to ensure the safe delivery of her cherished vehicle. She came across Nexus Auto Transport, which promised professional handling at every step.
The vehicle transporter lived up to the promise, exhibiting extreme caution and adherence to safety protocols throughout the car shipping process. The result? Tammy's vehicle arrived in pristine condition and well ahead of schedule!
As her vehicle neared the delivery point, Tammy was kept in the loop with timely updates. Upon delivery, her initial worries were replaced with satisfaction, thanks to the exceptional service provided by Nexus Auto Transport​.
2. Outstanding Communication & Customer Care
Customer: Vinay Kesari B.
With specific requirements of a timely and well-communicated delivery, Vinod was on the lookout for a service that could meet his expectations. Luckily, Nexus Auto Transport stepped in to fulfill Vinay's satisfaction criteria.
He was genuinely impressed by the proactive handling of his concerns. Moreover, the clear and effective communication channels established by the company facilitated a smooth service delivery.
Vinay acknowledged the professionalism of the drivers as well, which contributed to his overall positive experience. Showing appreciation for the exceptional services, he went on to recommend it to his friends and family for their needs.
3. Prompt and Efficient Interstate Transportation
Customer: Lanyo D.
For Lanyo D., interstate vehicle transportation was always a daunting task, filled with logistical challenges. However, his experience with Nexus Auto Transport completely changed his perspective.
Throughout the journey, Nexus Auto Transport maintained continuous communication, offering regular updates on the vehicle's location and estimated arrival time. Plus, their staff exhibited real expertise while handling Lanyo's vehicle.
All in all, the door to door auto transport service, coupled with the clear communication, left Lanyo with nothing but praise for the company's efforts and dedication.
4. Hassle-Free Vehicle Transportation
Customer: Stephany A.
Stephany A. was in urgent need of a dependable auto transport service that could accommodate her tight schedule without compromising the care of her vehicle. With a critical day of work ahead and no room for delays, she placed her trust in Nexus Auto Transport.
Nexus Auto Transport did not disappoint and delivered Stephany's car on time. This spot-on service enabled her to proceed with her day's work without delay.
Moreover, Stephany appreciated the careful handling of her vehicle, as there were no signs of damage or mishandling. This emphasis on ensuring the scratch-free vehicle during transit underscores the professionalism implemented by the firm.
The overall experience has won Stephany's trust, and she seems keen to choose Nexus Auto Transport again for future transportation needs.
5. Early Arrival of Vehicle
Customer: Hannah. H
Hannah H. was seeking an auto transport service that prioritized swift vehicle delivery. While sorting through her options, Nexus Auto Transport stood out due to their expedited auto transport.
Thankfully, she didn't have to regret her decision. The early arrival of her vehicle, two days ahead of the scheduled date, was a delightful surprise that significantly enhanced her entire encounter.
In addition, the driver's sincere and professional behavior further contributed to Hannah's amazing experience. This professionalism clearly showcases the company's dedication to providing a well-rounded and enjoyable customer experience.
Being impressed with the company's services, Hannah said she would rate it 15 out of 5 if she could. This real-life experience highlights the high level of satisfaction and top-notch services offered by Nexus Auto Transport.
6. Same-day Long-distance Delivery
Customer: Jodi G.
Jodi G. was thrilled to receive her newly bought BMW, but there was a catch. The car was over 700 miles away, which seemed impossible to cover within a day. Though she could personally acquire her new vehicle by flight, the extra costs of the journey made her hesitant.
Nexus Auto Transport presented a solution with their same-day long-distance delivery service. They ship a luxury car on the same day, covering the vast distance professionally and efficiently.
And guess what happened next? Jodi received her BMW without the additional expense of flying out to pick it up personally. She also gave a nod to Nexus Auto Transport's affordable car shipping costs and speedy service.
Nexus Auto Transport - Your Gateway to Reliable Vehicle Relocation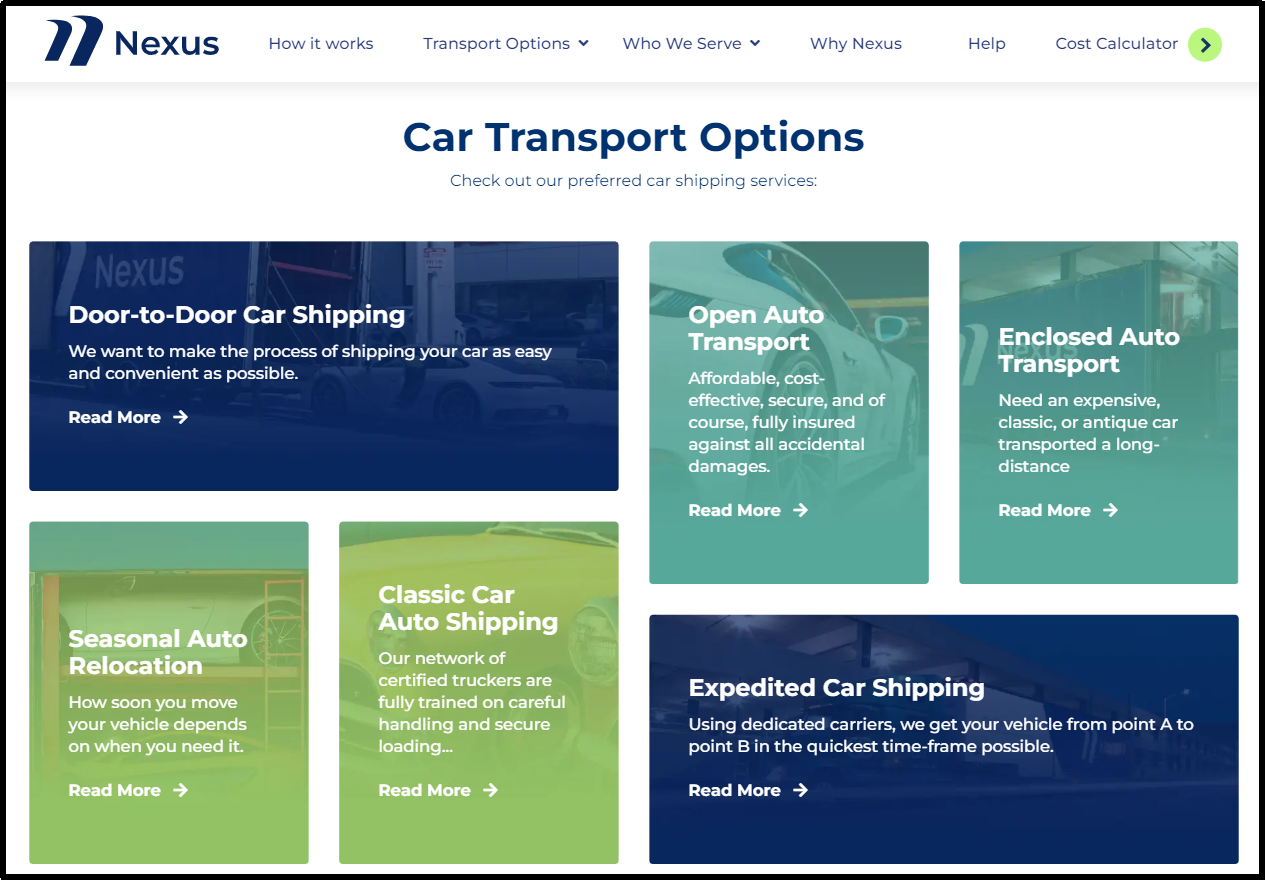 These were the stories of real-life customer experiences who chose Nexus Auto Transport for their vehicle shipping needs. It's evident that Nexus has rightly carved out its name as one of the best auto transport companies in the US.
Nexus is dedicated to providing its customers with what exactly they want. As part of this aim, we offer various services to cater to every unique need. These include enclosed auto transport, open auto transport, and much more.
As we conclude, remember that these customer success stories aren't just testimonials; they're the reflections of our promise to you. When it's time for your vehicle's journey, choose Nexus Auto Transport - where your auto's safety and our reputation ride along together.