Reliable and efficient vehicle shipping to or from Louisiana
Get instant car shipping quotes to or from Louisiana. We'll make sure you have all the vehicle shipment information you need and that you get a fair shipping quote.
Nexus Auto Transport is an industry leader in safe and efficient car & truck shipments to and from Louisiana
Shipping your car or truck to or from (Louisiana) has never been easier. When you need to ship a car, truck, or specialty vehicle out of or into Louisiana, you can breathe easy knowing that our expert vehicle shipping staff is on your side. We've got decades of in-house experience shipping a variety of different cars and trucks, and we only work with the safest and most dependable auto transporters on the road.
When it comes to vehicle shipments in Louisiana, we're the best thing going. Vehicle pickups and deliveries in every corner of Louisiana. We work with you!
Do you need your car picked up from your house in Louisiana? Are you shipping your truck to your workplace in Louisiana? Do you have special considerations and concerns about your prized muscle car?
Whatever the situation is and what vehicle transport questions you have, we have answers. We'll work both hard and smart to deliver your car, truck, or specialty vehicle from on your terms!
How it works
Car shipping simplified to 3 easy steps
Learn more about the great State of Louisiana
Located in the Deep South region of the United States, the State of Louisiana is the 25th most populous in the nation with an estimated population of 4,648,794. This is despite its standing as just the 31st largest state in area at 52,069.13 square miles. Louisiana's official nickname is the Pelican State due to its large population of pelicans on the Gulf Coast. However, Louisiana is also know as the Creole State and the Bayou State in some circles.
While the City of Baton Rouge is the official capital of Louisiana, it's nowhere near the most famous city in the state and it's only the 2nd most populous as well. The most populous and famous city in Louisiana far is New Orleans. Hit extremely hard by Hurricane Katrina in 2005, New Orleans is picking itself up in splendid fashion. The city now has a population of 390,128 which is a 13.47% increase from the 2010 Census. It is the 50th most populous city in the United States.
Let's take a look at the nine other cities behind New Orleans which make up the ten most populous in Louisiana: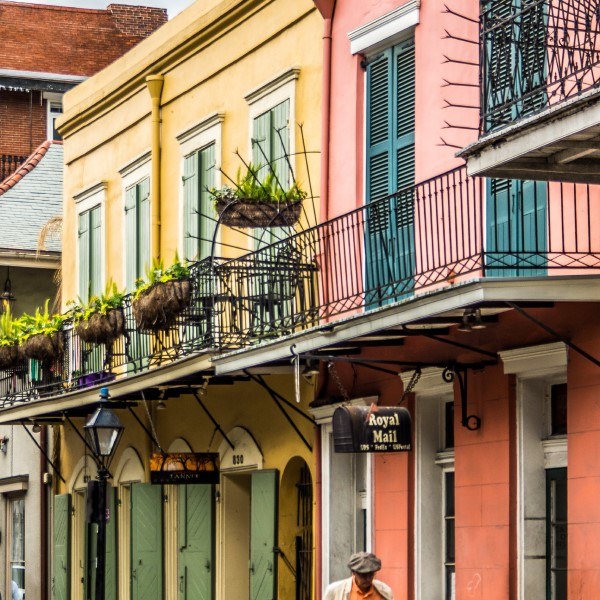 Baton Rouge
(216,701)
Shreveport
(183,819)
Metairie
(143,481)
Louisiana has a diverse economy which hinges on several different sectors. The excavation and processing of raw materials, firstly, is big money for the Pelican State. Louisiana is a national leader in the production and exporting of sulfur, petroleum, gas, and salt. There is a large reserve of sulfur and oil deposits just off the Gulf of Mexico shore of Louisiana, and those deposits are pivotal to the overall health of the Louisiana economy.
The Bayou State also has a healthy manufacturing sector which is keyed by various goods including apparel, chemicals, processed foods, paper, lumber, transportation devices and equipment, coal products, and furniture. If manufacturing isn't your thing and you'd rather look into starting a small business for yourself, you'll be happy to know that Louisiana was recently ranked one of the most friendly states to small businesses in the United States.
Agriculturally, Louisiana gets a strong boost from a variety of different crops and animals. It's actually the biggest producer of crawfish in the world by a large margin, with nine out of every ten crawfish sold around the globe having been caught and processed in the Pelican State. Other key agricultural exports for the State of Louisiana include soybeans, cattle, sugarcane, cotton, rice, poultry, eggs, and dairy products.
Louisiana also brings in millions upon millions of tourism dollars every year. A lot of that centers around New Orleans. One of the most beloved and celebrated cities in the entire world, New Orleans is credited as the Birthplace of Jazz among many other plaudits. The French Quarter is a complete bucket revelation which has turned to one of the premiere Instagram photo opportunities in the nation. New Orleans is also the site of one of the most famous Mardi Gras celebrations in the entire world – an annual event which has taken place since 1838.
That's not all for tourist attractions in Louisiana, though. Other things you need to see in Louisiana include the Mercedes-Benz Superdome in New Orleans, the lively and historic Cajun country in the Mississippi Delta, Chalmette National Historic Park, the state capital in Baton Rouge, and the history-rich plantation homes just outside of Natchitoches and New Iberia.
If you want to get to all of these amazing sites in the State of Louisiana, there are options to be had. Louisiana has several different bus systems across the state, there are streetcars in New Orleans worth taking a spin on, and ride-share services are extremely popular as well. However, your best bet for seeing all that the Bayou State has to offer is to have your own vehicle shipped to you. As soon as you get your car or truck on your schedule, you'll be able to check out all of the historical points of interest, museums, and restaurants of the Pelican State on your time.
Speaking of restaurants, the food in Louisiana is something different entirely. For some tourists, the main attraction of the Pelican State is the unique and flavorful cuisine of the state's different regions. New Orleans cuisine spins elements of Deep South traditions, Creole seasonings, and Cajun flair to create some organic and beautiful and all its own. Whether you're trying out gumbo in the French Quarter or taking a chance on some alligator in the Mississippi Delta, you won't be able to get the flavors of Louisiana cuisine out of your head.
Other regional specialties you'll need to try when traveling the Pelican State include red beans and rice, bananas foster, shrimp po-boys, crawfish etouffee, jambalaya, barbecue shrimp, New Orleans pralines, and New Orleans king cakes. There's a wide selection of other foods from around the world, especially in places like New Orleans and Baton Rouge, but you need to have the full Louisiana experience to really see what the Pelican State is all about.
And if you're both a foodie and a sports fan, you're going to be in absolute heaven in Louisiana. The State of Louisiana is actually the least populous state in the Union with more than one professional sports team in the four major American pro sports league. The New Orleans Saints (National Football League) and New Orleans Pelicans (National Basketball Association) are both near and dear to a large section of the Louisiana population.
Louisiana is also home to 12 different programs in the National Collegiate Athletic Association's top division, Division I. For a state of its size, that's an extremely impressive number. Leading the way is the Louisiana State University Tigers, especially their football program. Beloved by many Louisianans both in the state and transplanted, the Tigers football program has won 11 Southeastern Conference titles and four national championships.
While Louisiana State University in Baton Rouge is a great choice for those moving to the state with aims to continue their education, it's far from the only option worth considering. Other highly-regarded universities and colleges within the Pelican State include Tulane University in New Orleans, Louisiana Tech University in Ruston, Loyala University New Orleans in New Orleans, the University of Louisiana-Lafayette in Lafayette, the University of Louisiana-Monroe in Monroe, Northwestern State University of Louisiana in Natchitoches, and McNeese State University in Lake Charles.
Now that we've covered a great deal about what makes the State of Louisiana so special, it's time to boost your trivia cache about the state. Let's first look at the various living and inanimate symbols of the Pelican State:
State Bird – Brown Pelican
State Dog – Catahoula Leopard Dog
State Mammal – Black Bear
State Reptile – Alligator
State Tree – Bald Cypress
State Fossil – Petrified Palmwood
State Instrument – Diatonic Accordion
We've got plenty more cool facts about Louisiana where that came from. Below is a sampling of some juicy trivia nuggets about the Pelican State, just waiting for you to share them with family and friends:
Did you know that the City of New Orleans is actually situated as the second-lowest point in the entire United States? New Orleans actually sits eight feet below sea level. The highest point in the state is Driskill Mountain near Shreveport, yet it's just 535 feet above sea level. To compare, there are parts of Colorado which are over 10,000 feet above sea level.
The longest bridge in the world over any body of water is in the Pelican State. The Lake Pontchartrain Causeway has two different parallel spans opened in 1956 and 1969 respectively. The entire bridge goes for 24 miles and even has its own website with a live camera feed.
The first-ever opera concert in the United States was held at the Théâtre de la Rue St. Pierre in New Orleans back on May 22, 1796. The theater burned down just 20 years later along with many other builds nearby.
Did you know that alligator is big business in Louisiana? Firstly, there are around 2.3 million alligators which call the state home – around two million in the wild and 300,000 who lives on alligator farms. Alligator meat and hides are a source of around $57 million in profits each year.
Without question, Louisiana is one of the most unique and vibrant states in the Union. In order to fully capture what's going on in the Pelican State, you're going to need a reliable vehicle of your own to get where you want (and need) to go. Shipping your truck, car, or van with Nexus Auto Transport is the first and biggest step towards endless possibilities in the Bayou State. From food to sports and everything in between, Louisiana is the worth the time you put into it.