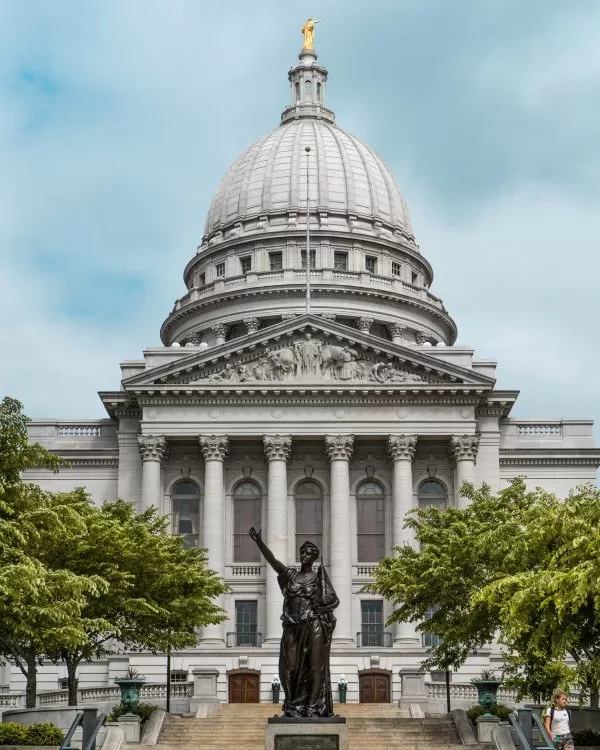 Reliable and efficient vehicle shipping to or from Wisconsin
Get instant car shipping quotes to or from Wisconsin. We'll make sure you have all the vehicle shipment information you need and that you get a fair shipping quote.

Nexus Auto Transport is an industry leader in safe and efficient car & truck shipments to and from Wisconsin
Shipping your car or truck to or from (Wisconsin) has never been easier. When you need to ship a car, truck, or specialty vehicle out of or into Wisconsin, you can breathe easy knowing that our expert vehicle shipping staff is on your side. We've got decades of in-house experience shipping a variety of different cars and trucks, and we only work with the safest and most dependable auto transporters on the road.
When it comes to vehicle shipments in Wisconsin, we're the best thing going. Vehicle pickups and deliveries in every corner of Wisconsin. We work with you!
Do you need your car picked up from your house in Wisconsin? Are you shipping your truck to your workplace in Wisconsin? Do you have special considerations and concerns about your prized muscle car?
Whatever the situation is and what vehicle transport questions you have, we have answers. We'll work both hard and smart to deliver your car, truck, or specialty vehicle on your terms!

How it works
Schedule a car shipment online or over the phone.
Schedule a vehicle shipment with Nexus and you'll be surprised at how easy it is! All you have to do is enter your car pickup and car delivery zip codes in our online car shipping quote tool (or give that information to one of our dedicated vehicle transport agents), select your vehicle type and size, choose between open or enclosed auto transport, and pick from a variety of different car shipment scheduling dates.
You're bound to find a fair shipping rate that works for you, or you can pay a bit more for expedited enclosed vehicle transport. It all depends on your needs and the driver availability of our network of car haulers. Reserve your car shipment with a refundable $0 reservation fee. Our low-risk car delivery service is suitable for any budget.
We pick up your car and the vehicle transport journey begins.
One of our expert Nexus auto transport coordinators will work with you to arrange a vehicle pickup date and time which works best for you. When you ship a car direct with Nexus, we do our very best to work around your schedule!
Just prep your vehicle for car hauling by cleaning it inside and out, removing valuable personal items, and making sure there's at least a quarter tank of gas for loading and unloading it off of the car hauler. On car pickup day, you or someone you authorize through Nexus will inspect your vehicle with your driver to notate preexisting damages and other concerns. Once the Bill of Lading and the inspection report are signed, your car will be on its way!
Our car hauling service delivers your vehicle to its destination.
You can contact your car transporter at any time during your vehicle shipment to ask questions about arrival times and anything else that may be on your mind. Our vehicle transport truckers go through rigorous safety and procedural training to ensure that your car is safe every step of the way!
The vehicle transport hauler will come as close to your address as safely and legally possible. Any balance due on your vehicle shipment can be paid to your trucker upon arrival. You or someone you appoint will conduct a final vehicle inspection, sign off on a Bill of Lading, and you're done! Shipping is complex with other car moving companies. But, it's as simple as 1, 2, 3 with Nexus.
How much would it cost to ship a car to Wisconsin?
The cost of Wisconsin auto transport differs based on the particulars of your specific order. These factors include the full driving distance of your Wisconsin car shipping order, the make and model of your vehicle, the time of year in which you ship a car, your scheduling flexibility, your choice of open or closed car hauling services, and the Wisconsin auto transport company you choose to work with.
In need of car transport, Wisconsin residents? Head over to our instant car shipping cost calculator right away! Whether you need auto transport services in Kenosha or cheap car transportation options in Wisconsin elsewhere, you can secure top-tier Wisconsin car shipping services in just seconds via our calculator!

How do I transport my car to Wisconsin?
You can search for Wisconsin car shipping companies online or secure reliable car shipping services with the help of a phone book. Or, you can head over to our online cost calculator right away for car transporters Wisconsin residents trust!
Our experienced team of drivers specializes in all things vehicle transport, WI, and otherwise. We're true Wisconsin auto transport experts. And we're a Wisconsin car shipping company with a track record to back up our claims.
We're Nexus.
And that's why we top the list of Wisconsin auto transport companies servicing customers like you right now, 24/7/365.

What's the best way to ship your car to Wisconsin?
Don't settle for less when looking for vehicle transport, WI citizens. Nexus is your best bet for vehicle transport, Milwaukee or otherwise.
With Nexus, you reap the rewards of 5-star Wisconsin auto transport with a company that strikes a balance between customer service, efficiency, professionalism, and affordability. That's the Nexus difference.
Whether you need vehicle transport in Milwaukee or car shipping out of Green Bay, we have affordable solutions that work with your schedule and within your budget.

Learn more about the great State of Wisconsin
Unofficially nicknamed the Badger State, the State of Wisconsin is the 20th most populous state in the Union with an estimated population of 5,822,434 residents. That's a pretty manageable amount from a density perspective considering Wisconsin is the 22nd largest state in the Union with a total area of 65,498.37 square miles. Located in both the Great Lakes and Midwest regions of the United States, Wisconsin has a varied topography greatly informed by glaciers way back during the Ice Age.
While the capital city of Wisconsin is Madison, it's not the most populous city in the state. That honor goes to Milwaukee with an estimated population of 590,157. That ranks Milwaukee 31st in population among cities in the United States. Milwaukee is a lively city that is proud of its German American and Scandinavian immigrant heritage, but it's not the only city worth checking out during your stay in the Badger State. Below are the nine other cities which round out the top ten most populous in Wisconsin:


Madison
(264,030 residents)
Green Bay
(105,413)
Kenosha
(101,124)
Agriculture is a massive part of the Wisconsin economy. That makes sense considering that the state is famous around the world for its dairy products, namely the cheeses which are exported from the Badger State. Milk is also an extremely significant export for Wisconsin's bottom line. Dairy products alone rake in billions of dollars for the state in a given year. If you're looking for a job in an industry with legs in the state, you can't go wrong in dairy.
Dairy products aren't the only agricultural exports that provide major profits for the Badger State. Other agricultural goods with a strong economic imprint in the state include corn, potatoes, hay, beans, peas, beets, cranberries, and oats. The state also has a wealth of mines that excavate and process key raw materials which include zinc, lead, iron ore, and copper.
Manufacturing also plays a pivotal role in providing jobs within the state and goods both inside the state and out. Some of the key manufactured goods made in Wisconsin include processed foods, beer, furniture, general machinery, and automobiles. Where the Badger State shines in manufacturing, though, is in paper. Wisconsin is the top producer of paper in the entire nation.
Tourism also brings significant money into the state, especially when it comes to outdoor recreation. Wisconsin has over 14,000 lakes within its borders which draw visitors from around the nation and world for fishing, jet skiing, ice boating, and other various water sports. There are also 95 different recreation areas, state parks, and forests in the state which cover nearly 15% of Wisconsin's total area.
Key sites of interest for locals and tourists alike include the Ice Age National Scientific Reserve, the extremely cool Circus World Museum in Baraboo, the picturesque Wisconsin Dells, three different national scenic riverways (St. Croix, Lower St. Croix, and Wolf), and the Apostle Islands National Lakeshore.
Another key tourist attraction is Lambeau Field in Green Bay. The home of the National Football League's Green Bay Packers, Lambeau Field is the oldest continuously used stadium in the league. It's also rife with ghosts of games past, a stadium unlike any other. And if you happen to go to a game during the winter, you'll likely find out why the stadium sometimes referred to as "Titletown USA" is also nicknamed "the Frozen Tundra."
That's not all for sports in Wisconsin, though. The state has two more professional sports teams among the four major American sports – the Milwaukee Brewers (Major League Baseball) and Milwaukee Bucks (National Basketball Association). The state's also home to minor league teams, semi-professional squads in the major sports and other sports, and of the best indoor soccer teams in history – the Milwaukee Wave.
We haven't even covered collegiate sports yet. The Wisconsin Badgers are one of the most storied college football programs in the Midwest, and the Marquette Golden Eagles are a regular standout in college basketball. If you're looking for spectator sports to be a big part of your everyday life, you can't do much better than moving to Wisconsin.
All of this talk about sports brings us to the best thing to do when watching sports – eating! Wisconsin's cuisine is greatly influenced by the large amounts of German and Scandinavian immigrants who settled within the state. You can find plenty of restaurants with takes on traditional German fare like schnitzel, and you will even Hofbraus and buffets which offer modernized takes on classic foods from both regions.
That's not all for food in Wisconsin, though. Cheese is king and queen in the Badger State, which means you'll find everything from bratwursts covered in cheese to upscale fondue restaurants. There's a real love of meat which makes itself known almost everywhere you go. Whether it's sandwiches, hot dogs, hamburgers, or steaks, you'll always be able to find a good meal that will fill you up without emptying your wallet.
So, how are you going to get around to sample all of the great food Wisconsin has to offer? There are bus systems, streetcars, and rail services in limited areas. There's also Amtrak which can shuttle you between Chicago and Milwaukee, but the easiest way to get around Wisconsin is in your passenger vehicle. The comprehensive system of highways and byways is your ticket to the Badger State, which makes shipping your car as soon as you can a top priority.
If you're somebody who travels out of state or out of the country a lot for business or pleasure, Wisconsin does have one major international airport to its credit – Milwaukee Mitchell International Airport. If that doesn't work for you, you can always take a train into Chicago and fly out of there.
And if you're heading to Wisconsin with higher education on the mind, you have options. Firstly, there's the University of Wisconsin System which has 26 campuses to its credit – the flagship of which being the University of Wisconsin-Madison in Madison. If you're looking to go to school for a trade, there are also 16 campuses within the Wisconsin Technical College System.
That's not all, though. Wisconsin also has a wealth of great private colleges which include Marquette University in Milwaukee, Beloit College in Beloit, Edgewood College in Madison, Wisconsin Lutheran College on the border between Wauwatosa and Milwaukee, Lakeland College in Plymouth, and Carroll University in Waukesha.
Now that you've gotten a detailed look at the ins and outs of the Badger State, it's time to add some Wisconsin trivia knowledge to the mix. Let's start by taking a look at the various inanimate and living symbols of the state:
State Bird – American Robin
State Flower – Wood Violet
State Insect – Western Honey Bee
State Slogan – "America's Dairyland"
That's not all for our dive into Wisconsin trivia! We want you to be the talk of your next (or first) dinner party in Wisconsin, so here are some really cool facts about the state for you to recite:
One of the main attractions for locals and visitors alike is the ample grounds for hunting in the State of Wisconsin. If you brought together all of the hunters who head out on the first day of deer season in Wisconsin, you'd be able to put together the sixth largest army in the entire world.
Are you into skiing? There are plenty of ski resorts to check out in Wisconsin! And there's also the American Birkebeiner – the biggest cross country ski race in the United States which brings over 5,000 competitors and their friends and family to Wisconsin each year.
The first circus in the United States took place in Delavan. No clowning around, it's true!
If you're running low on toilet paper, it's time to move to Wisconsin already. Green Bay is known as the "Toilet Paper Capital of the World."
If you take herbal supplements for health and wellness, you'll be ecstatic to know that Wisconsin is the top producer of ginseng in the United States.
A food item we didn't talk about earlier that we need to talk about here is ice cream. Did you know that Wisconsin citizens eat upwards of 21 million gallons of ice cream each year? The first known ice cream sundae was made in Two Rivers back in 1881.
Are you ready to experience everything that the Badger State has to offer? Shipping your truck, car, or van with Nexus Auto Transport will get you there. Whether you want to catch a Milwaukee Brewers game or have some fun on one of the state's many lakes, a reliable vehicle is your ticket to the natural grandeur and pure entertainment of Wisconsin.

X
For the best price quote for a personalized multi car shipment, please give us a call:
224-218-2949