Reliable and efficient vehicle shipping to or from Illinois
Get instant car shipping quotes to or from Illinois. We'll make sure you have all the vehicle shipment information you need and that you get a fair shipping quote.
If you're planning to move to Illinois, you can take a look at our video below
Nexus Auto Transport is an industry leader in safe and efficient car & truck shipments to and from Illinois
Shipping your car or truck to or from Illinois has never been easier. When you need to ship a car, truck, or specialty vehicle out of or into Illinois, you can breathe easy knowing that our expert vehicle shipping staff is on your side. We've got decades of in-house experience shipping a variety of different cars and trucks, and we only work with the safest and most dependable auto transporters on the road.
When it comes to vehicle shipments in Illinois, we're the best thing going. Vehicle pickups and deliveries in every corner of Illinois. Our team of dedicated Illinois car shipping experts work with you!
Do you need your car picked up from your house in Illinois? Are you shipping your truck to your workplace in Illinois? Do you have special considerations and concerns about your prized muscle car?
Whatever the situation is and what vehicle transport questions you have, we have answers. We'll work both hard and smart to deliver your car, truck, or specialty vehicle from on your terms!

How it works
Schedule a car shipment online or over the phone.
Schedule a vehicle shipment with Nexus and you'll be surprised at how easy it is! All you have to do is enter your car pickup and car delivery zip codes in our online car shipping quote tool (or give that information to one of our dedicated vehicle transport agents), select your vehicle type and size, choose between open or enclosed auto transport, and pick from a variety of different car shipment scheduling dates.
You're bound to find a fair shipping rate that works for you, or you can pay a bit more for expedited enclosed vehicle transport. It all depends on your needs and the driver availability of our network of car haulers. Reserve your car shipment with a refundable $0 reservation fee. Our low-risk car delivery service is suitable for any budget.
We pick up your car and the vehicle transport journey begins.
One of our expert Nexus auto transport coordinators will work with you to arrange a vehicle pickup date and time which works best for you. When you ship a car direct with Nexus, we do our very best to work around your schedule!
Just prep your vehicle for car hauling by cleaning it inside and out, removing valuable personal items, and making sure there's at least a quarter tank of gas for loading and unloading it off of the car hauler. On car pickup day, you or someone you authorize through Nexus will inspect your vehicle with your driver to notate preexisting damages and other concerns. Once the Bill of Lading and the inspection report are signed, your car will be on its way!
Our car hauling service delivers your vehicle to its destination.
You can contact your car transporter at any time during your vehicle shipment to ask questions about arrival times and anything else that may be on your mind. Our vehicle transport truckers go through rigorous safety and procedural training to ensure that your car is safe every step of the way!
The vehicle transport hauler will come as close to your address as safely and legally possible. Any balance due on your vehicle shipment can be paid to your trucker upon arrival. You or someone you appoint will conduct a final vehicle inspection, sign off on a Bill of Lading, and you're done! Shipping is complex with other car moving companies. But, it's as simple as 1, 2, 3 with Nexus.
How much does it cost to ship a car to or from Illinois?
The cost of Illinois car shipping varies based on specific factors including the time of year you ship, the type of car you're shipping, the distance of your Illinois auto transport journey, your choice of open or closed transport services, your scheduling flexibility, and which Illinois car shipping company you choose to work with.
When you choose Nexus as your Illinois auto transport company, you'll enjoy the spoils of the most reliable Illinois car shipping services in the United States. And with the help of our instant Illinois auto transport cost calculator, you can secure five-star car transport services in Illinois within seconds -- all at a price that fits your budget.
That's the Nexus advantage. And that's what you should expect from the most trusted Illinois car shipping experts in the industry.

What's the best way to ship your car to Illinois?
When shipping a car to Illinois, it's usually not worth the risk to ship it yourself. The added costs of gas, lodging, food, and potential repairs outweigh the out-the-door costs of working with a professional Illinois car shipping company.
The best way to ship a car to Illinois is with Nexus, hands down. When it comes to Hoosier State auto transport, Illinois companies and nationwide providers are all competing for your hard-earned dollar. Nexus doesn't just compete. We provide top-rated Illinois car shipping services tailored to your schedule and transport needs.
No other Illinois car shipping company balances customer service, timely and safe transport, and affordability like Nexus does. And for just $75, you can reserve your spot right away with the top Illinois auto transport team in the U.S.
Why wait? Head over to our Illinois auto transport cost calculator right away to get started.

Learn more about the great State of Illinois
The sixth most populous state in the Union with an estimated 12,671,821 residents, the state of Illinois is centered around the city of Chicago – the third most populous city in the United States (2,693,976) and a true cultural and economic epicenter for the nation and the world. The Second City has long been lauded as a hotbed for everything from music to banking, but it's not the only city in Illinois worth moving to or visiting. Below is a list of the nine other cities in the Prairie State which round out the top ten most populated cities in the state: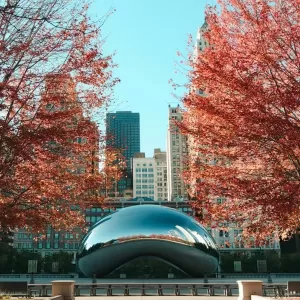 Chicago
2,709,534 residents
Each of these cities has something unique to offer. From world-renowned museums to manufacturing and coal mining plants teeming with business, Illinois is basically a distillation of the nation as a whole. It has a diverse array of industries to its credit which span across the state, with Chicago functioning as the nerve center for Illinois in all things economic and cultural.
In fact, Chicago and its outlying areas serve as the home for 65% of the state's population. In addition to that, it's also one of the biggest and busiest transportation hubs in the entire United States. Chicago O'Hare International Airport and Chicago Midway International Airport service millions about million of travelers of year both coming to the Second City and heading to destinations around the world.
In addition to transportation to and from Illinois, Chicago has one of the busiest public transportation systems in the entire country. The Chicago Transit Authority's elevated train system is second only to New York City's subway system when it comes to servicing riders, with approximately 1.6 million riders on the CTA system on a given weekday.
Chicago takes up just 234 of the 57,913.55 square miles (25th in the United States) within Illinois' borders, but it's responsible for a lion's share of the state's economic health. Chicago is a Great Lakes port city which deals in a massive amount of exports and imports. It's also the hub of the Chicago district which spreads into parts of Indiana – a national leader in meat packing, iron and steel production, railroad transportation, and grain processing.
Outside of Chicago, manufacturing is a key part of the Illinois economy. In addition to the manufacturing of food and agricultural products, there are host of factories churning out computer equipment, industrial machinery, transportation peripherals, and chemicals. The state is a top producer within the United States of pork products, soybeans, and corn. It also has strong imprints in the beef, oats, sorghum, and wheat markets.
All in all, Illinois pulls in about $909 billion for a Gross State Product that ranks fifth in the United States. If the State of Illinois was a standalone country, it would rank in the top fifteen in the world for GDP. A lot of that is thanks to Chicago, but it's also because of a burgeoning manufacturing sector and gains in both retail and the service industry.
As for entertainment options, there are few cities in the world which can match Chicago. For starters, it has 26 miles of lakefront with 25 different beaches to enjoy. However, that's just scratching the surface of things in the Second City. If you're an art fan and have yet to experience Chicago, it's time to do so. It's home to a staggering 200 or so art galleries and 20 neighborhood art collectives. It's also got over 250 theaters, 200 dance companies, and 225 concert venues within its bounds.
For history buffs, Chicago has 369 different landmarks to check out. For foodies, there are over 7,300 restaurants in the Second City serving up some of the most stellar cuisine from countries around the world. Chicago is home to one of the most diverse cultural populations in the United States. That's led to a bevy of world-renowned restaurants cropping up serving everything from classic Italian food to Ethiopian cuisine. Whatever you have a taste for, Chicago has you covered.
And if you're in the mood for an adult beverage, there are 167 different breweries in the Chicagoland area and dozens of other breweries in other areas of Illinois. The 167 breweries in the Chicago metropolitan area are the most in any metropolitan area in the United States. From stouts to lagers and everything in between, you will likely find a new favorite beer in Chicago.
Everybody knows that beer goes well with sports. Chicago is home to five different professional sports teams across the four major sports, a handful of professional squads in other sports, and a host of semi-professional and collegiate teams. It's also home to the iconic Wrigley Field – a national landmark which also happens to be a functioning stadium for Major League Baseball's Chicago Cubs. Well known for its ivy-covered outfield fence, Wrigley Field is a bucket list visit for hardcore and casual sports fans alike.
While Chicago is definitely the life of the Illinois party, that doesn't mean other cities like the capital of Springfield are something to scoff at. Because rents in Chicago proper can be a bit exorbitant for working-class citizens, many Chicago-born citizens move to outlying areas and bring a bit of the Second City with them. There are a ton of great restaurants, historical sites, and points of interest throughout the state which are not associated with Chicago.
One thing to note is that Illinois is home to a whopping 186 different public use areas which include memorials, forests, state parks, and conservation areas. For American history buffs, the aforementioned capital of Springfield is a must as it serves as the home for Abraham Lincoln's restored home, the Lincoln Tomb, and a beautiful restoration of the Old State Capitol. For those who practice the Mormon faith or have interest in its historical genesis, the home of Joseph Smith is a definite point of interest in the town of Nauvoo.
Looking for some pretty awesome Illinois trivia to wow your friends or impress the locals after moving to the Prairie State? Well, did you know that the final episode of the Oprah Winfrey Show was shot in Chicago after 25 years in syndication. Why, you ask? Well, Chicago is Oprah's hometown! She has long professed her love for the city and the state as a whole.
To beef up your trivia knowledge of the Prairie State even more, we've also compiled a list of the various living and inanimate symbols of the State of Illinois:
State Amphibian – Eastern Tiger Salamander
State Bird – Northern Cardinal
State Insect – Monarch Butterfly
State Mammal – White-tailed Deer
State Reptile – Painted Turtle
State Dance – Square Dance
State Foods – Gold Rush Apple, Popcorn
State Slogan – "Land of Lincoln"
Have you been listening to music while reading this? Do you consider yourself a music fan in the slightest? Are you a musician who's looking to get better at their craft? Well, you better ship your car or truck as soon as you can because Illinois may in fact be the music capital of the United States! When it comes to music education, Illinois is a leader in both administration and practice. In fact, it's the home base for one of the largest organizations of music educators in the country – the Illinois Music Educators Association.
Chicago itself has often served as a haven for musicians in all sorts of genres. It is often referred to as the birthplace of both the blues and house music, and it's also an epicenter for everything from gospel music to punk. There are venues all over the city which keep its rich musical tradition alive, with some concerts feeling like time warps back to the heyday of jazz and blues in the first half of the 20th Century.
Whether you're moving to Chicago proper or the outlying Chicagoland area, just know that your love of music is only going to grow with the bounds of the Second City.
While public transportation is a reliable option in Chicago itself, shipping your vehicle to your new home in the State of Illinois is your ticket to everything the Prairie State has to offer. From the Lincoln Tomb to the hundreds of other historical sites and points of interest around the state, a reliable vehicle is going to open up a true goldmine of experiences and opportunities in the state of Illinois.
X
For the best price quote for a personalized multi car shipment, please give us a call:
224-218-2949