Reliable and efficient vehicle shipping to or from New Hampshire
Get instant car shipping quotes to or from New Hampshire. We'll make sure you have all the vehicle shipment information you need and that you get a fair shipping quote.
Nexus Auto Transport is an industry leader in safe and efficient car & truck shipments to and from New Hampshire
Shipping your car or truck to or from New Hampshire has never been easier. When you need to ship a car, truck, or specialty vehicle out of or into New Hampshire, you can breathe easy knowing that our expert vehicle shipping staff is on your side. We've got decades of in-house experience shipping a variety of different cars and trucks, and we only work with the safest and most dependable auto transporters on the road.
When it comes to vehicle shipments in New Hampshire, we're the best thing going. Vehicle pickups and deliveries in every corner of New Hampshire. We work with you!
Do you need your car picked up from your house in Manchester? Are you shipping your truck to your workplace in Nashua? Do you have special considerations and concerns about your prized muscle car?
Whatever the situation is and what vehicle transport questions you have, we have answers. We'll work both hard and smart to deliver your car, truck, or specialty vehicle on your terms!
Enjoy the benefits of working with true New Hampshire car shipping experts. Grab your free auto shipping quote today!

How it works
Schedule a car shipment online or over the phone.
Schedule a vehicle shipment with Nexus and you'll be surprised at how easy it is! All you have to do is enter your car pickup and car delivery zip codes in our online car shipping quote tool (or give that information to one of our dedicated vehicle transport agents), select your vehicle type and size, choose between open or enclosed auto transport, and pick from a variety of different car shipment scheduling dates.
You're bound to find a fair shipping rate that works for you, or you can pay a bit more for expedited enclosed vehicle transport. It all depends on your needs and the driver availability of our network of car haulers. Reserve your car shipment with a refundable $0 reservation fee. Our low-risk car delivery service is suitable for any budget.
We pick up your car and the vehicle transport journey begins.
One of our expert Nexus auto transport coordinators will work with you to arrange a vehicle pickup date and time which works best for you. When you ship a car direct with Nexus, we do our very best to work around your schedule!
Just prep your vehicle for car hauling by cleaning it inside and out, removing valuable personal items, and making sure there's at least a quarter tank of gas for loading and unloading it off of the car hauler. On car pickup day, you or someone you authorize through Nexus will inspect your vehicle with your driver to notate preexisting damages and other concerns. Once the Bill of Lading and the inspection report are signed, your car will be on its way!
Our car hauling service delivers your vehicle to its destination.
You can contact your car transporter at any time during your vehicle shipment to ask questions about arrival times and anything else that may be on your mind. Our vehicle transport truckers go through rigorous safety and procedural training to ensure that your car is safe every step of the way!
The vehicle transport hauler will come as close to your address as safely and legally possible. Any balance due on your vehicle shipment can be paid to your trucker upon arrival. You or someone you appoint will conduct a final vehicle inspection, sign off on a Bill of Lading, and you're done! Shipping is complex with other car moving companies. But, it's as simple as 1, 2, 3 with Nexus.
How much does it cost to ship a car from New Hampshire?
The cost of New Hampshire car shipping will differ based on specific factors involved in your particular auto shipment. These key New Hampshire (NH) auto transport factors include the day and month that you ship your car, the total distance of your shipment, the weight and model of the car you're shipping, whether you pick open or closed transport services, your scheduling flexibility, the accessibility of your pickup and drop-off locations, and the in-house rates of the New Hampshire auto transport company you work with.
When you choose Nexus over other NH auto shipping companies, you're in for an unparalleled vehicle transport experience. Thanks to our state-of-the-art instant car shipping cost calculator, you can secure top-rated NH car hauling services, 24/7/365 -- at rates that work with your budget, not against it.
That's the Nexus advantage. We provide five-star NH car shipping services you can trust. Choose Nexus and choose quality.

What's the best way to ship your car to New Hampshire?
If you're in the market for reliable New Hampshire car shipping services, you have plenty of options. However, you should always opt for a well-reviewed New Hampshire (NH) auto transport company that doesn't forgo safety for the sake of its bottom line.
That's where Nexus comes in. Are you looking for expedited New Hampshire car shipping as soon as possible? Do you simply want affordable auto transport, NH to FL?
Regardless of why you're looking for New Hampshire car shipping services, Nexus is your best bet.
Experience the Nexus difference for yourself. No other NH car shipping company offers the balance of efficiency, shipment security, ease of scheduling, affordability, and customer service that we do.
See why we're consistently ranked as the #1 company for New Hampshire car shipping services. Head over to our instant car shipping cost calculator right away for your free quote!

Learn more about the great State of New Hampshire
Situated in the middle of the New England region of the United States, New Hampshire is the 41st most populous state in the Union with an estimated population of 1,359,711. The Granite State also ranks just 46th in the nation with a total area of 9,349 square miles, boosting its standing in total population density to 21st among the 50 states.
The capital city of New Hampshire is Concord, yet it ranks just 3rd among the most populous cities in the state. The most populous city in New Hampshire is Manchester with an estimated resident count of 113,441 – good for just the 261st most populous city in the United States. Manchester is constantly ranked among the best cities to live in America thanks to its affordable cost of living, focus on small businesses, and job opportunities.
However, Manchester is just one of the amazing towns and cities within the State of New Hampshire. Below are the nine other cities which complete the list of the ten most populous in the Granite State:

Nashua
(90,080)
Concord
(43,840)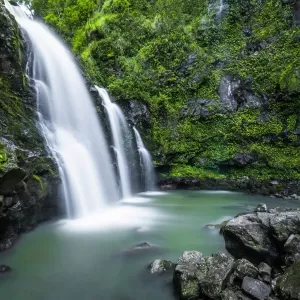 Dover
(32,343)
New Hampshire's economy has benefited greatly from the economic success and growth of neighboring Massachusetts. An economy that used to rely heavily on grain and paper mills has now diversified and found new life. The state's tech industry imprint is growing rapidly and smart manufacturing is now the source of nearly 1/5 of New Hampshire workers' in-state income.
One other key source of income for New Hampshire residents comes from the real estate and rental sector. New Hampshire is an extremely popular destination for outsiders looking for either a second home or a temporary vacation home, and rentals in this niche bring in big money to the state's economy.
Other economic sectors worth considering for prospective employment include professional and business services, education, health care, retail, information services, construction, and wholesale trade.
New Hampshire's tourism industry gets a huge boost from the White Mountains every year – a year-round destination for hiking, biking, skiing, snowboarding, and mountain climbing. Perhaps the most beloved attraction within the White Mountains is Mount Washington which has a claim to fame as the highest point in all of New England.
Other tourist attractions you need to see in New Hampshire include Lake Winnipesaukee, the historic town of Portsmouth, and Daniel Webster's birthplace just outside of Franklin. New Hampshire has a total of 1,300 lakes and ponds as well, perfect for fishing or just relaxing by the water.
If you're planning on heading to New Hampshire and continuing your education, you'll be happy to know that there are plenty of well-known and beloved options for you to choose from. Some of our favorites include the world-renowned Dartmouth College in Hanover, the University of New Hampshire in Durham, the University of New Hampshire at Manchester, Saint Anselm College in Manchester, Keene State College in Keene, and Plymouth State University in Plymouth.
We've given you a brief glimpse into what makes New Hampshire so special, so let's boost your trivia knowledge just a bit with a list of the official living and inanimate symbols of the Granite State:
State Bird – Purple Finch
State Mammal – White-Tailed Deer
State Fish – Brook Trout, Striped Bass
State Flower – Purple Lilac
State Amphibian – Red-Spotted Newt
State Foods – Blackberry, White Potato, Pumpkin
State Gemstone – Smoky Quartz
Shipping your car, truck, or van to New Hampshire through Nexus Auto Transport is the best and most efficient way to experience the Granite State. A reliable vehicle is your key to experiencing all of the best restaurants, shopping, attractions, and sites of interest that New Hampshire has to offer.

X
For the best price quote for a personalized multi car shipment, please give us a call:
224-218-2949