Reliable and efficient vehicle shipping to or from New Jersey
Get instant car shipping quotes to or from New Jersey. We'll make sure you have all the vehicle shipment information you need and that you get a fair shipping quote.
Nexus Auto Transport is an industry leader in safe and efficient car & truck shipments to and from New Jersey
Shipping your car or truck to or from (New Jersey) has never been easier. When you need to ship a car, truck, or specialty vehicle out of or into New Jersey, you can breathe easy knowing that our expert vehicle shipping staff is on your side. We've got decades of in-house experience shipping a variety of different cars and trucks, and we only work with the safest and most dependable auto transporters on the road.
When it comes to vehicle shipments in New Jersey, we're the best thing going. Vehicle pickups and deliveries in every corner of New Jersey. We work with you!
Do you need your car picked up from your house in New Jersey? Are you shipping your truck to your workplace in New Jersey? Do you have special considerations and concerns about your prized muscle car?
Whatever the situation is and what vehicle transport questions you have, we have answers. We'll work both hard and smart to deliver your car, truck, or specialty vehicle from on your terms!

How it works
Schedule a car shipment online or over the phone.
Schedule a vehicle shipment with Nexus and you'll be surprised at how easy it is! All you have to do is enter your car pickup and car delivery zip codes in our online car shipping quote tool (or give that information to one of our dedicated vehicle transport agents), select your vehicle type and size, choose between open or enclosed auto transport, and pick from a variety of different car shipment scheduling dates.
You're bound to find a fair shipping rate that works for you, or you can pay a bit more for expedited enclosed vehicle transport. It all depends on your needs and the driver availability of our network of car haulers. Reserve your car shipment with a refundable $0 reservation fee. Our low-risk car delivery service is suitable for any budget.
We pick up your car and the vehicle transport journey begins.
One of our expert Nexus auto transport coordinators will work with you to arrange a vehicle pickup date and time which works best for you. When you ship a car direct with Nexus, we do our very best to work around your schedule!
Just prep your vehicle for car hauling by cleaning it inside and out, removing valuable personal items, and making sure there's at least a quarter tank of gas for loading and unloading it off of the car hauler. On car pickup day, you or someone you authorize through Nexus will inspect your vehicle with your driver to notate preexisting damages and other concerns. Once the Bill of Lading and the inspection report are signed, your car will be on its way!
Our car hauling service delivers your vehicle to its destination.
You can contact your car transporter at any time during your vehicle shipment to ask questions about arrival times and anything else that may be on your mind. Our vehicle transport truckers go through rigorous safety and procedural training to ensure that your car is safe every step of the way!
The vehicle transport hauler will come as close to your address as safely and legally possible. Any balance due on your vehicle shipment can be paid to your trucker upon arrival. You or someone you appoint will conduct a final vehicle inspection, sign off on a Bill of Lading, and you're done! Shipping is complex with other car moving companies. But, it's as simple as 1, 2, 3 with Nexus.
How much does it cost to ship a car to or from New Jersey?
The cost of New Jersey car shipping varies based on specific factors involved with your particular order. These key NJ auto shipping factors include the total distance of your NJ auto transport order, the day or month you ship a car, the make and model of the car you're shipping, your scheduling needs and window, your choice of closed or open transport services, and the company you pick for New Jersey auto transport services.
When you choose Nexus for NJ auto transport services, you'll instantly enjoy the benefits of working with a top New Jersey car shipping company. And thanks to our instant New Jersey auto transport cost calculator, you can secure reliable NJ car shipping services within seconds -- all at prices that work within your budgeting constraints.
That's the Nexus advantage. And that's what you should expect when seeking the best auto transport services to or from The Garden State.

What's the best way to ship your car to New Jersey?
The best way to ship a car to New Jersey is with Nexus, full stop. When it comes to car shipping, New Jersey car shipping companies and nationwide providers are all competing for your hard-earned dollar.
Nexus doesn't just look to compete. We simply provide our customers with top-rated , reliable New Jersey auto transport solutions fashioned to work with your schedule and fulfill your shipping needs.
Compared to other car transport companies, New Jersey and nationwide, Nexus leads the pack in customer satisfaction, safe and efficient transport, and affordable shipping solutions. And for just $75, you can reserve your order right away and experience our five-star New Jersey auto transport service for yourself!
There's no need to wait. Our online car shipping NJ cost calculator is just a click away!

Learn more about the great State of New Jersey
New Jersey is #1 in the United States in terms of population density, packing approximately 8,882,190 residents into a state with area of just 8,722.58 square miles. The 11th most populous state in the Union and the fourth smallest state, the Garden State's population boom has a lot to do with its proximity to New York City and its place within the Greater New York metro area.
However, New Jersey is a fine state all to itself. While the capital of New Jersey is Trenton, it doesn't rank in the top ten in population within the State of New Jersey. The most populous city in the state is Newark with 282,011 residents. That's good for just the 73rd largest city in the nation, but New Jersey is all about a multitude of towns with heavy population densities. Below is a list of the other nine cities in the Garden State which round out the top ten in population:

Jersey City
261,746 residents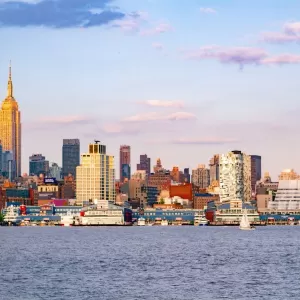 Paterson
145,800 residents
Elizabeth
128,153 residents
Another big reason for New Jersey's massive population is its standing as a pivot point for the greater manufacturing industry in North America. Dubbed the "Crossroads of the East," New Jersey is home to thousands of manufacturers which ship goods all over the world. Its biggest export is chemicals, but New Jersey is also known for manufacturing pharmaceuticals, apparel, electronics and electrical goods, machinery, and musical instruments.
In addition to its extremely impressive manufacturing sector, New Jersey is known the world over for its research centers. Some of the most important pharmaceutical and chemical tests in the nation take place in the Garden State, and there are a host of other research facilities conducting tests for a wide swath of different industries and philanthropic aims.
If you thinking of New Jersey as an outsider, farmland is probably not the first thing that pops up in your mind. However, perhaps it should be. About one-sixth of New Jersey's relatively small land mass is covered by farmland currently in use. That's 790,000 acres worth of farmland in a state that is under 5 million acres in size. New Jersey is a key producer and distributor of many different foods including dairy products, seafood, poultry, peaches, blueberries, cranberries, carrots, and a host of other vegetables.
While manufacturing and agriculture have huge financial implications for the Garden State, tourism is actually the second most profitable industry in the state behind general manufacturing. With 127 miles of coastline to its credit, New Jersey is home to a litany of different resorts which each offer something intriguing and different. There's also the legal gambling industry in New Jersey after a 1977 ruling opened the doors for casinos to come to Atlantic City. Those casinos are a huge moneymaker and also a huge employer of New Jersey residents.
Casinos and resorts aren't the only tourist attractions worth checking out in the Garden State. There are many other points of interest you should circle on your to-do list including the Edison National Historic Site in West Orange, the world-famous Princeton University, Liberty State Park, the New Jersey State Aquarium in Camden, Jersey City, and the Delaware Water Gap. These sites draw tourists in from both all over the Northeast and all over the world.
Speaking of the world, New Jersey is home to immigrants from 5 other continents who have brought an amazing bit of culinary culture to the Garden State. One thing that helps all this is the supply of fresh seafood constantly distributed to restaurants from off the Jersey shoreline. There are a litany of different seafood restaurants which are well worth your time and money.
That's not all for New Jersey food culture, though. The Garden State is home to some very unique culinary contributions such as the sloppy joe, the thin-crust Trenton tomato pie, Jersey-style hot dogs, beefsteak, and the pork roll. An intriguing mixture of European influences, New York style, and a host of other cultural contributions, New Jersey is a dream for the adventurous foodie in your family.
Are you a sports fan living in New Jersey or planning on moving there? It's an extremely interesting and exciting place for a sports fan! For one, the National Football League's New York Giants and New York Jets share MetLife Stadium in East Rutherford. There's also a handful of other professional sports teams, some semi-professional squads, and some collegiate teams to boot!
What really makes things interesting for a sports fan residing in New Jersey is the New Jersey Turnpike which serves as one of the primary thoroughfares for automobile travel in the Northeast. If you want to catch a New York Yankees game in New York City or even catch a connector down to Boston to watch the Celtics play, New Jersey is connected brilliant to the rest of the Northeast by the Turnpike and other adjacent highways and byways.
One thing of note when having your car or truck shipped to your place in New Jersey. Be wary of the double-decked George Washington Bridge between the hours of 3pm and 7pm. It's one of the key bridges which connect New Jersey and New York and it's also the heaviest trafficked bridge in the entire world. While it has fourteen lanes to its credit, it can still get backed up something fierce during rush hour.
(One last thing about driving in New Jersey – don't try to pump your own gas. New Jersey is the only state in the Union with required full-service gas stations, although Oregon does the same in a more limited capacity.)
If you plan on raising a family in New Jersey, you'll be happy to know that the public school system is one of the most well-funded systems in the entire nation. New Jersey ranks in the top five in the nation on dollar spent per public school student, with half of those funds directed towards paying teachers and tutors. So, it's also a great state to consider if you're a public school teacher looking for work.
And just to sell you on the public school system in New Jersey even more, it was ranked best in the nation back in 2014 by the folks over at Wallet Hub. Add in two of the more prestigious higher education institutions in the nation in Princeton University and Rutgers University, a host of other universities and small colleges, and some trade schools and you can see why the Garden State is regularly lauded as of the best states to live for a full stay-at-home education.
Now that you're familiar with a lot of what New Jersey has to offer, it's time to boost your trivia knowledge about the Garden State. First, let's take a look at the official living and inanimate symbols of the State of New Jersey:
State Bird – Eastern Goldfinch
State Flower – Viola Sororia
State Insect – Western Honey Bee
State Trees – Northern Red Oak, Dogwood
State Colors – Buff, Blue
State Folk Dance – Square Dance
State Food – Northern Highbush Blueberry
State Fossil – Hadrosaurus Foulkii
That's just the tip of the trivia iceberg for the State of New Jersey. Here's some other intriguing and weird and awesome facts about the Garden State:
Here's another really cool set of facts for the sports nuts in the audience – Hoboken was the site of the first professional baseball game in the United States and an interstate showdown between Rutgers and Princeton marked the first ever intercollegiate football contest in the country.
We may not all live in a yellow submarine as the song said, but the first ever modern submarine ride took place in New Jersey submerged in the Passaic River.
Are you hungry? Like right now? If so and you're in the State of New Jersey, you're in luck. Known as the "Diner Capital of the Country," New Jersey is home to approximately 525 diners serving everything from American classics to regional cuisines from around the world.
While drive-in movie theaters are few and far between nowadays, there was a time when they were a primary source of entertainment in the United States. The first drive-in movie theater to open its doors actually was in Camden!
Once you have your car, truck, or van shipped to your new home or temporary locale in New Jersey, you'll be able to bypass crowded public transportation in favor of driving to and from some of the coolest spots in all of the nation. Whether you're watching a Jets game in East Rutherford or heading out to play some blackjack in Atlantic City, the arrival of your vehicle won't just be your key to everything New Jersey has to offer. With the state's comprehensive highway and byway system at your disposal, you'll be able to see what the entire Northeastern United States is all about.

X
For the best price quote for a personalized multi car shipment, please give us a call:
224-218-2949