Reliable and efficient vehicle shipping to or from Pennsylvania
Get instant car shipping quotes to or from Pennsylvania. We'll make sure you have all the vehicle shipment information you need and that you get a fair shipping quote.
Nexus Auto Transport is an industry leader in safe and efficient car & truck shipments to and from Pennsylvania
Shipping your car or truck to or from (Pennsylvania) has never been easier. When you need to ship a car, truck, or specialty vehicle out of or into Pennsylvania, you can breathe easy knowing that our expert vehicle shipping staff is on your side. We've got decades of in-house experience shipping a variety of different cars and trucks, and we only work with the safest and most dependable auto transporters on the road.
When it comes to vehicle shipments in Pennsylvania, we're the best thing going. Vehicle pickups and deliveries in every corner of Pennsylvania. We work with you!
Do you need your car picked up from your house in Pennsylvania? Are you shipping your truck to your workplace in Pennsylvania? Do you have special considerations and concerns about your prized muscle car?
Whatever the situation is and what vehicle transport questions you have, we have answers. We'll work both hard and smart to deliver your car, truck, or specialty vehicle from on your terms!
How it works
Schedule a car shipment online or over the phone.
Schedule a vehicle shipment with Nexus and you'll be surprised at how easy it is! All you have to do is enter your car pickup and car delivery zip codes in our online car shipping quote tool (or give that information to one of our dedicated vehicle transport agents), select your vehicle type and size, choose between open or enclosed auto transport, and pick from a variety of different car shipment scheduling dates.
You're bound to find a fair shipping rate that works for you, or you can pay a bit more for expedited enclosed vehicle transport. It all depends on your needs and the driver availability of our network of car haulers. Reserve your car shipment with a refundable $0 reservation fee. Our low-risk car delivery service is suitable for any budget.
We pick up your car and the vehicle transport journey begins.
One of our expert Nexus auto transport coordinators will work with you to arrange a vehicle pickup date and time which works best for you. When you ship a car direct with Nexus, we do our very best to work around your schedule!
Just prep your vehicle for car hauling by cleaning it inside and out, removing valuable personal items, and making sure there's at least a quarter tank of gas for loading and unloading it off of the car hauler. On car pickup day, you or someone you authorize through Nexus will inspect your vehicle with your driver to notate preexisting damages and other concerns. Once the Bill of Lading and the inspection report are signed, your car will be on its way!
Our car hauling service delivers your vehicle to its destination.
You can contact your car transporter at any time during your vehicle shipment to ask questions about arrival times and anything else that may be on your mind. Our vehicle transport truckers go through rigorous safety and procedural training to ensure that your car is safe every step of the way!
The vehicle transport hauler will come as close to your address as safely and legally possible. Any balance due on your vehicle shipment can be paid to your trucker upon arrival. You or someone you appoint will conduct a final vehicle inspection, sign off on a Bill of Lading, and you're done! Shipping is complex with other car moving companies. But, it's as simple as 1, 2, 3 with Nexus.
Learn more about the great State of Pennsylvania
As of the 2010 Census, Pennsylvania was the 6th most populous state in the Union. However, it has overtaken Illinois in the past ten years to become the 5th most populous State in the nation. With an estimated 12,801,989 residents, the state officially known as the Commonwealth of Pennsylvania is a historical landmark in and of itself. It's home to the sixth most populous city in the United States in Philadelphia (1,584,064 residents) – a city which is rich in history in regards to the nascent days of American independence.
However, Philadelphia isn't the only city worth checking out in the Keystone State. Below is a list of the nine other cities which round out the ten most populous in the state:
Philadelphia
1,584,064 residents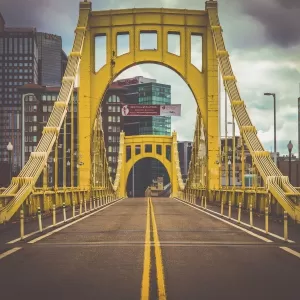 Pittsburgh
305,704 residents
Allentown
118,032 residents
While just about 15-20% of Pennsylvania's residents reside in Philadelphia or its outlying areas, the Quaker State has a pretty consistent population density across its relatively modest 46,055 square miles. Home to 67 counties, Pennsylvania is only the 33rd largest state in land mass within the United States. The majority of counties are well populated but not overcrowded, making for one of the most balanced living situations among the most populous states in the Union.
If you're heading to Pennsylvania and looking for work, there's plenty of industries for you to choose from. Pennsylvania remains the national leader when it comes to the production of steel for specialty uses, yet the Keystone State has also diversified in recent years and added a wealth of jobs in the retail, service industry, and manufacturing sectors. If manufacturing is the way you're looking to go, there are usually jobs available in the production of electronics, food products, chemicals, and pharmaceuticals. While the service industry and retail leaves a huge imprint on Philadelphia proper, manufacturing gigs can be found throughout the state.
The real key to Pennsylvania's economy, however, is the 63,200 different farms within the state's borders. According to a recent estimate, these farms take up nearly 8 million acres of space and produce a wide variety of goods such as corn, beef, dairy products, poultry, eggs, fruits, mushrooms, sweet corn, maple syrup, and potatoes. And if you didn't know, Pennsylvania is among the national leaders when it comes to the production of Christmas trees!
In total, Pennsylvania has a Gross State Product of $803 billion which places it 6th in the nation overall. That's impressive in and of itself, but the Quaker State would also qualify as the 19th largest economy in the world if it was as standalone country. That's due to a variety of different industries including the aforementioned agriculture and manufacturing, as well as other moneymakers such as a legal gambling industry. Back in 2004, casino gambling was legalized in the state of Philadelphia. It brings billions of dollars of profits to Pennsylvania and serves as a major entertainment outlet for the state's inhabitants.
Another industry which brings billions of dollars to the Keystone State is tourism. The state is home to many different historical sites which are of unique interest including Gettysburg National Military Park, Valley Forge National Historical Park, Independence National Historical Park, the Pennsylvania Dutch region, and the Delaware Water Gap National Recreation Area. It's also home to former President Eisenhower's farm near Gettysburg. For those looking to immerse themselves in the history of American both before and after the Revolution, there are very few states which have the history that Pennsylvania has to offer.
This has a lot to do with the fact that Philadelphia served as the primary seat of the American Government from 1776 to 1800. In fact, it was in Philadelphia where the Declaration of Independence was signed in 1776 and where the U.S. Constitution was penned in 1787. There's also perhaps Philadelphia's most famous tourist attraction, the Liberty Bell, which is currently housed in a glass pavilion near Independence Hall. Philadelphia is a city that remains on the cutting edge in many ways, but it's the history of the city which brings in tourists from all over the world.
Are you a sports fan? Pennsylvania is definitely the place for you! It's home to seven professional sports teams across the four major American sports, a bevy of different semi-professional and professional squads in other sports, and South Williamsport has even played host to the Little League World Series each summer since 1959. If you're a baseball history buff, you probably already know that the first ever World Series was played in Pittsburgh back in 1903. For sports fans and sports history buffs alike, there isn't another state which has the unique and rich history of Pennsylvania.
And what goes better with watching sports than snack foods? Known in some circles as the "Snack Food Capital of the World," Pennsylvania is the number one state in the Union in regards to the manufacturing of potato chips and pretzels. It's also home to Hershey – the noted center of the United States chocolate industry. Big-name companies such as Mars and Godiva have manufacturing plants in the area along with a host of other candy companies.
If you don't have a sweet tooth or aren't looking to gorge yourself on snack foods in general, Pennsylvania still has a rich food culture for you to enjoy. If you've never had a Philadelphia cheese steak in Philly proper, you owe it to yourself to do so. There's also a huge Irish and Italian population in Pennsylvania which means there's a ton of different restaurants serving up traditional and modernized takes on foods from those regions.
Looking for something that's fun for the entire family? The Philadelphia Zoo was the nation's first zoo and is worth the trip for the historical significance alone. Pennsylvania also has 121 different state parks which are also of free of charge for admission. And if you're the type of family which digs museums, some of the most beloved museums in the United States are within Pennsylvania's borders. This includes the Philadelphia Museum of Art, the Carnegie Museums in Pittsburgh, and the Houdini Museum in Scranton.
All of that is just scratching the surface when it comes to the entertainment options that Pennsylvania has to offer. It has one of the widest selection of amusement parks in the nation, plays host to several different music festivals, and is even home to one of the biggest sport hunting communities in the United States. According to recent estimates, there are about one million licensed hunters currently residing in Pennsylvania. If you're looking to hunt for sport or for food, the Quaker State is definitely a must-go for tourists and transplants alike.
Now if you're outside Pennsylvania reading this article, you're probably already pretty close to deciding on the Gemstone State as your next state of residence. With that being said, why not learn a little bit of trivia about Pennsylvania before making the move? Below is a list of the various living and inanimate symbols of the Commonwealth of Pennsylvania:
State Amphibian – Eastern Hellbender
State Bird – Ruffed Grouse
State Flower – Mountain Laurel
State Mammal – White-Tailed Deer
State Tree – Eastern Hemlock
State Food – Chocolate Chip Cookie
Another really cute bit of trivia about the state of Pennsylvania has to do with the most famous resident of the town of Punxsutawney – Punxsutawney Phil. Punxsutawney Phil is better known as a groundhog who is coaxed out of his home by residents on Groundhog's Day to determine whether there will be six more weeks of winter or an early and temperate spring. While this is more of a superstition and a ceremony than anything else, it's become a true part of general culture and even helped to inspired the aptly-titled Groundhog's Day – a Hollywood blockbuster from the 1980s starring Bill Murray.
From cute groundhogs to landmarks of true historical significance, Pennsylvania is often overshadowed by its proximity to New York and the sprawling metropolis of New York City. However, it's central location in the Northeast makes it the perfect hub for residents who want to travel and see places like New York City, Boston, and Washington DC. In fact, there are plenty of public transportation options to get you to those places along with plenty of options to get you around cities like Philadelphia and Pittsburgh.
However, having your own car or truck shipped to you will open a wealth of different exploration options across the state of Philadelphia. Whether you want to sample chocolate in Hershey or ride some roller coasters at one of the state's many theme parks, your family vehicle is your ticket to everything that the Keystone State has to offer. And to be honest, that's a whole lot.
X
For the best price quote for a personalized multi car shipment, please give us a call:
224-218-2949