Reliable and efficient vehicle shipping to or from Ohio
Get instant car shipping quotes to or from Ohio. We'll make sure you have all the vehicle shipment information you need and that you get a fair shipping quote.
Nexus Auto Transport is an industry leader in safe and efficient car & truck shipments to and from Ohio
Shipping your car or truck to or from Ohio has never been easier. When you need to ship a car, truck, or specialty vehicle out of or into Ohio, you can breathe easy knowing that our expert vehicle shipping staff is on your side. We've got decades of in-house experience shipping a variety of different cars and trucks, and we only work with the safest and most dependable auto transporters on the road.
When it comes to vehicle shipments in Ohio, we're the best thing going. Vehicle pickups and deliveries in every corner of Ohio. We work with you!
Do you need your car picked up from your house in Ohio? Are you shipping your truck to your workplace in Ohio? Do you have special considerations and concerns about your prized muscle car? We're the best of the best Ohio auto transport companies for a reason!
Whatever the situation is and what vehicle transport questions you have, we have answers. We'll work both hard and smart to deliver your car, truck, or specialty vehicle on your terms!

How it works
Schedule a car shipment online or over the phone.
Schedule a vehicle shipment with Nexus and you'll be surprised at how easy it is! All you have to do is enter your car pickup and car delivery zip codes in our online car shipping quote tool (or give that information to one of our dedicated vehicle transport agents), select your vehicle type and size, choose between open or enclosed auto transport, and pick from a variety of different car shipment scheduling dates.
You're bound to find a fair shipping rate that works for you, or you can pay a bit more for expedited enclosed vehicle transport. It all depends on your needs and the driver availability of our network of car haulers. Reserve your car shipment with a refundable $0 reservation fee. Our low-risk car delivery service is suitable for any budget.
We pick up your car and the vehicle transport journey begins.
One of our expert Nexus auto transport coordinators will work with you to arrange a vehicle pickup date and time which works best for you. When you ship a car direct with Nexus, we do our very best to work around your schedule!
Just prep your vehicle for car hauling by cleaning it inside and out, removing valuable personal items, and making sure there's at least a quarter tank of gas for loading and unloading it off of the car hauler. On car pickup day, you or someone you authorize through Nexus will inspect your vehicle with your driver to notate preexisting damages and other concerns. Once the Bill of Lading and the inspection report are signed, your car will be on its way!
Our car hauling service delivers your vehicle to its destination.
You can contact your car transporter at any time during your vehicle shipment to ask questions about arrival times and anything else that may be on your mind. Our vehicle transport truckers go through rigorous safety and procedural training to ensure that your car is safe every step of the way!
The vehicle transport hauler will come as close to your address as safely and legally possible. Any balance due on your vehicle shipment can be paid to your trucker upon arrival. You or someone you appoint will conduct a final vehicle inspection, sign off on a Bill of Lading, and you're done! Shipping is complex with other car moving companies. But, it's as simple as 1, 2, 3 with Nexus.
How much is it to transport a car to Ohio?
The cost of Ohio car shipping will differ depending on specific aspects and factors involved with your particular order. These key Ohio auto transport factors include what day and month you ship a car, the overall distance of your Ohio car transport order, the make and model of the car you're shipping, whether you choose open or closed transport services, your scheduling needs, and window, and the company you pick for Ohio auto transport services.
When you choose Nexus over other transportation options in Ohio, you'll instantly enjoy the benefits of working with true Ohio auto transport experts. And thanks to our instant auto transport cost calculator, you can secure reliable Ohio car shipping services within seconds -- all at prices that make sense for any budget.
That's the Nexus advantage. And that's what reliable Ohio auto transport should seek to provide, every time.

What's the best way to ship your car to Ohio?
When it comes to car transport companies, Ohio residents and travelers have plenty of options. Therefore, you should always opt for an experienced Ohio auto transport company that doesn't sacrifice safety for the bottom line.
That's where Nexus comes in. Do you need five-star vehicle transport, Cincinnati natives? Looking for safe auto transport, Cleveland, Ohio folks?
There are reliable Ohio auto transport companies, and then there's Nexus -- a level above in terms of shipment security, affordability, efficiency, and customer service.
Experience the Nexus difference for yourself. Head over to our instant Ohio car shipping cost calculator to get started. Within seconds, you can reserve your order with us and enjoy the spoils of top-rated car transport.

Learn more about the great State of Ohio
The 7th most populous state in the Union with an estimated 11,689,100 residents, the State of Ohio spreads its citizens over 44,825 square miles – good for just 34th out of 50 states in total square mileage. That makes Ohio the tenth densest state when it comes to citizens per square mile. A bit contributor to that density is Columbus. The capital of the Buckeye State, Columbus is the 14th largest city in the United States with a whopping 898,553 residents. It's also growing, having added over 100,000 residents since the 2010 Census.
Columbus isn't the only city worth mentioning, though. Below are the nine other cities which round out the top ten in population size within Ohio:

Columbus
878,553 residents
Cleveland
385,282 residents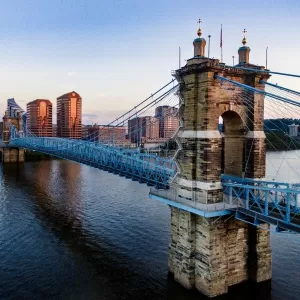 Cincinnati
301,394 residents
If you're looking for a job in manufacturing, Ohio is one of the best options for you in the entire United States. At the current moment, Ohio ranks 3rd in the United States in total manufacturing jobs. Many of Ohio's major cities also serve as manufacturing hubs, with each city having its specialty in that regard. For example, Akron is well known for its rubber factories and Canton has a very big imprint when it comes to turning out roller bearings.
Cincinnati is a huge aviation partner, rolling out more jet engines per capita than any state in the Union. Both Youngstown and Steubenville turn out steel in mass quantities for a wide variety of industries. Toledo has a fantastic foothold in both the glass and auto part industries, while Cleveland battles its economic downturn with contributions to the steel, auto part, and auto assembly industries. When it comes to manufacturing key parts for a wide swath of niches, Ohio has very few parallels despite being considered a "Rust Belt" state by some critics.
Manufacturing isn't the only key element of the Ohioan economy, though. The farming community in Ohio is a lot bigger than one might think, and agriculture plays a huge role in the financial health of the Buckeye State. Did you know that Ohio is well known as a leading producer of limes both in the United States and around North America? It is the fourth largest lime producer in the nation!
Ohio also has strong yields and distribution imprints for oats, corn, soybeans, wheat, hay, apples, grapes, peaches, strawberries, and specialty nursery and greenhouse effects. Ohio is a big contributor to the national pork and veal industries as well. And if you're looking for a bag of sand, gravel, or crushed stones at your local hardware store for landscaping purposes, there's a good chance that bag was produced somewhere in Ohio.
The tourism industry is also big bucks for the Buckeye State. Visitors to the State of Ohio bring just under $40 billion a year to the economy. One of the major attractions which draw people in from all over is the Rock and Roll Hall of Fame. A sprawling shrine to all things music in the heart of Cleveland, the Rock and Roll Hall of Fame brings in tourists year-round and also brings a groundswell into the Cleveland economy every year when they induct new acts into the Hall of Fame.
Other tourism attractions within the State of Ohio include Perry's Victory International Peace Memorial, the Pro Football Hall of Fame in Canton, the Native American burial grounds at Mound City Group National Monument, and the restored domiciles of five different presidents – Grant, Taft, Harding, Hayes, and Garfield. The state of Ohio is rich in history, but American and transplanted from the large numbers of European immigrants which made Ohio their home in the 19th and 20th Centuries.
Going back to one of those tourist attractions, the Pro Football Hall of Fame is another huge draw when it comes to bringing in visitors from all over the United States and the world. It's also emblematic of Ohio's love affair with the game of football. If you're a college football or sports fan in the slightest, a visit to Ohio State's Buckeye Stadium (or Horseshoe as it's affectionately referred to thanks to its shape) is an absolute must. On any random Saturday in the fall, Columbus stands as the center of the football universe with over 100,000 fans packing into the venerable Buckeye Stadium.
Football isn't the only sport synonymous with the State of Ohio. Ohio has six professional sports teams across the four major American sports. In addition, it's home to many more collegiate squads across many different sports, semi-professional teams, and professional squads in sports like soccer and lacrosse. If you're a sports junkie and are looking for someone to root for or something to watch on any given day on the calendar, making a home base in Ohio is definitely not a bad move.
Are you looking to travel to and from Ohio for business or pleasure? Ohio is a pretty large transportation hub, with 11 total airports – five international, four domestic, and two under the auspices of the military. Among the international airports within the State of Ohio, Cleveland Hopkins International Airport, Dayton International Airport, and John Glenn Columbus International Airport are among the most well-trafficked airports in the region. One international airport not counted is the Cincinnati/Northern Kentucky International Airport because it's technically in Hebron, Kentucky. However, it serves as the major aviation hub for the city of Cincinnati.
If you're shipping a car or a truck into Ohio for moving or play, you'll be happy to know that Ohio is the main artery for several east-to-west highways, byways, and other transportation corridors. When the Lincoln Highway came to the Buckeyes State in 1913, it brought a boom in both population and industry. If you jump on that highway somewhere in the State of Ohio, you can go as far East as New York City or as far West as San Francisco. If you're a fan of cross-country treks but want a state with a relatively low cost of living, Ohio is calling to you.
And if you're a college student who is considering Ohio for a four-year degree or a specialty certificate, you're in luck. Three different Ohio universities rank among the top 100 in the U.S. News & World Report's listing of the best research universities in the United States – Case Western Reserve University, Miami University, and Ohio State University. And if you're looking for a liberal arts degree of some sort, Kenyon College, Denison University, and Oberlin College all land in the top 50 of a separate U.S. News & World Report ranking.
If you've read this far into the ins and outs of the State of Ohio, you're probably already living in the Buckeye State or are considering it as a future home. So, why not learn a little bit of trivia about Ohio to wow family, friends, and the locals with your anecdotes. First, let's look at some of the official living and inanimate symbols of the State of Ohio:
State Amphibian – Spotted Salamander
State Flower – Red Carnation
State Mammal – White-tailed Deer
State Reptile – Black Racer Snake
State Beverage – Tomato Juice
State Gemstone – Ohio Flint
State Slogan "So Much To Discover"
Here are some other cool bits of Ohio trivia for you to show off with at your next dinner party or get-together:
Ohio wasn't officially recognized as a state until 1953. While it was declared as a state all the way back in 1803, the official paperwork for its statehood wasn't given the Presidential Stamp of Approval until President Eisenhower made it official. He, of course, made sure to date the declaration with the original 1803 listing.
The first professional baseball team in the United States was located in Cincinnati. The Cincinnati Red Stockings began operations in 1869 – a precursor to the current-day Boston Red Sox.
Are you a big movie buff? Then, you'll be delighted to know that the award-winning Shawshank Redemption was filmed in Mansfield at the Ohio State Reformatory. In addition, scenes in Air Force One were also shot at the Reformatory. The site is now accepting public tours.
Jerry Springer, anyone? Before becoming one of the most infamous talk show hosts of the 1990s, Springer served as the mayor of Cincinnati. After his show ended its syndication run, Springer considered a Senate campaign but feared he would have a hard time gaining support due to the edgy content he helped to produce.
To sum things up, Ohio is an absolute hotbed of manufacturing power and historical relevance. Shipping your car, truck, or van to the Buckeye State is your big chance at exploring everything that this state has to offer. From great food at restaurants in Columbus and Cleveland to sites of interest in places like Canton and Akron, the roads of Ohio are calling to you. And some good stuff awaits at the end.

X
For the best price quote for a personalized multi car shipment, please give us a call:
224-218-2949