Reliable and efficient vehicle shipping to or from South Carolina
Get instant car shipping quotes to or from South Carolina. We'll make sure you have all the vehicle shipment information you need and that you get a fair shipping quote.
Nexus Auto Transport is an industry leader in safe and efficient car & truck shipments to and from South Carolina
Shipping your car or truck to or from South Carolina has never been easier. When you need to ship a car, truck, or specialty vehicle out of or into South Carolina, you can breathe easy knowing that our expert vehicle shipping staff is on your side. We've got decades of in-house experience shipping a variety of different cars and trucks, and we only work with the safest and most dependable auto transporters on the road.
When it comes to vehicle shipments in South Carolina, we're the best thing going. Vehicle pickups and deliveries in every corner of South Carolina. We work with you!
Do you need your car picked up from your house in Myrtle Beach? Are you shipping your truck to your workplace in Columbia? Do you have special considerations and concerns about your prized muscle car?
Whatever the situation is and what vehicle transport questions you have, we have answers. We'll work both hard and smart to deliver your car, truck, or specialty vehicle on your terms!

How it works
Schedule a car shipment online or over the phone.
Schedule a vehicle shipment with Nexus and you'll be surprised at how easy it is! All you have to do is enter your car pickup and car delivery zip codes in our online car shipping quote tool (or give that information to one of our dedicated vehicle transport agents), select your vehicle type and size, choose between open or enclosed auto transport, and pick from a variety of different car shipment scheduling dates.
You're bound to find a fair shipping rate that works for you, or you can pay a bit more for expedited enclosed vehicle transport. It all depends on your needs and the driver availability of our network of car haulers. Reserve your car shipment with a refundable $0 reservation fee. Our low-risk car delivery service is suitable for any budget.
We pick up your car and the vehicle transport journey begins.
One of our expert Nexus auto transport coordinators will work with you to arrange a vehicle pickup date and time which works best for you. When you ship a car direct with Nexus, we do our very best to work around your schedule!
Just prep your vehicle for car hauling by cleaning it inside and out, removing valuable personal items, and making sure there's at least a quarter tank of gas for loading and unloading it off of the car hauler. On car pickup day, you or someone you authorize through Nexus will inspect your vehicle with your driver to notate preexisting damages and other concerns. Once the Bill of Lading and the inspection report are signed, your car will be on its way!
Our car hauling service delivers your vehicle to its destination.
You can contact your car transporter at any time during your vehicle shipment to ask questions about arrival times and anything else that may be on your mind. Our vehicle transport truckers go through rigorous safety and procedural training to ensure that your car is safe every step of the way!
The vehicle transport hauler will come as close to your address as safely and legally possible. Any balance due on your vehicle shipment can be paid to your trucker upon arrival. You or someone you appoint will conduct a final vehicle inspection, sign off on a Bill of Lading, and you're done! Shipping is complex with other car moving companies. But, it's as simple as 1, 2, 3 with Nexus.
How much would it cost to ship a car to South Carolina?
The cost of South Carolina auto transport differs based on specific factors regarding your particular vehicle shipment. These crucial South Carolina car shipping factors include the time of year that you ship your car, your overall shipment distance, the weight and model of the car you're shipping, your choice of open or closed transport services, the flexibility of your shipping schedule, and the in-house rates of the South Carolina auto transport company you ship with.
When you choose Nexus over other South Carolina car transport companies, you're in for an unparalleled shipping experience. Thanks to our state-of-the-art instant car transport cost calculator, you can secure top-rated SC car shipping services, 24/7/365 -- at rates that work with your budget, not against it.
That's the Nexus advantage. No other South Carolina auto transport companies compare. Choose Nexus and choose quality.

What's the best way to ship your car to South Carolina?
If you're looking for a South Carolina auto shipping company, you have a ton of options. However, you should always opt for South Carolina auto transport experts who never sacrifice safety for the sake of a bottom line.
That's where Nexus comes in. Are you looking for cheap auto transport options in South Carolina that aren't more trouble than they're worth? Do you need expedited South Carolina car shipping from Charleston to Miami?
Regardless of why you're in the car shipping market, Nexus is your best bet. We are the most reliable South Carolina auto transport company in operation. No one outpaces us in terms of efficiency, shipment security, ease of scheduling, affordability, and customer service.
Experience the Nexus difference for yourself.
Within seconds, you'll be able to schedule an order with the premier South Carolina auto shipping experts.

Learn more about the great State of South Carolina
The farthest state to the East in the Deep South region of the United States, the State of South Carolina is currently the 23rd most populous in the Union with an estimated population of 5,148,714. It's also one of the more dense states in the Deep South from a population standpoint, considering it's just 40th in the country in total area at 32,020 square miles. Nicknamed the Palmetto State due to the historical significance of its many palmetto trees, South Carolina has seen a sharp 11.3% population boom since the 2010 Census.
While the capital city of South Carolina is Columbia, it's just the 2nd most populous city in the state. The most populous city in South Carolina is Charleston with an estimated 138,458 – just about 5,000 more than Columbia. Charleston ranks just 200th in the nation in total population, but it more than makes up for it by being a vibrant city full of great places to eat and cool things to do. Let's take a look at the nine other cities behind Charleston which complete the list of the ten most populous in South Carolina:
Columbia
(133,031 residents)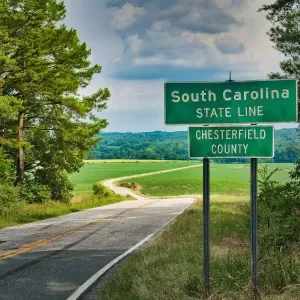 North Charleston
(115,383)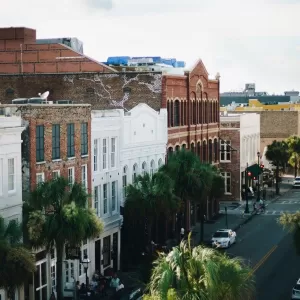 Mount Pleasant
(94,932)
Agricultural exports are a huge contributor to the health of a South Carolina economy which has been on the rise in recent years. The Palmetto State remains one of the nation's largest producers of tobacco and also has major national imprints in the production and distribution of hogs, poultry, cattle, cotton, hay, dairy products, rice, and soybeans. With fruitful soil aided by its weather and placement on the Atlantic Ocean, South Carolina's farms are rich in resources and are key to the state's profitability.
If you're looking for work and heading to South Carolina, you'll be happy to know that a bevy of major international corporations have made the move to the Palmetto State to take advantage of cheaper rent and other advantageous rules and regulations. Boeing even opened an aircraft manufacturing factory in Charleston back in 2011 – one of two sites that helped finalize their 787 Dreamliner. South Carolina is a right-to-work state, so many corporations do work through temp agencies to fill positions.
South Carolina's manufacturing sector is buoyed by much more than just aircraft assembly. Other key elements of the state's manufacturing imprint include chemicals, paper goods, general machinery, automobiles, auto parts, and textiles. The Palmetto State also has a major international corporate presence with a total of 1,950 foreign companies employing approximately 135,000 citizens within the state.
Another key sector for the South Carolina economy is tourism. Perhaps the biggest tourist draw for the Palmetto State is Myrtle Beach and the Grand Strand of gorgeous beaches which it anchors. Myrtle Beach has recently opened a boardwalk to cater to the nearly 14 million visitors who enjoy the Grand Strand each year. There are also tons of cool and kitschy shops around the city and the always-popular Family Kingdom Amusement Park.
That's just scratching the surface for tourist attractions in South Carolina, though. Other key points of interest for you to discover include the Fort Sumter National Monument, the Magnolia, Middleton, and Cypress Gardens out in Charleston, the Cowpens National Battlefield, the Riverbanks Zoo and Botanical Garden in Columbia, and the gorgeous Hilton Head resorts. And for those that like a splash of historical significance in their tourist attractions, there's Fort Johnson, Fort Moultrie, and the USS Yorktown aircraft carrier in Charleston Harbor.
And while there are a few Amtrak lines and bus systems that service the state, the best way to get to these attractions is with your vehicle. Shipping your car or truck will help you take full advantage of the fourth largest state-maintained highway system in the United States. South Carolina has 11 different Interstates passing through it, and tons of other highways and byways which add up to a staggering 41,500 miles or so in length. The right vehicle will go a long way in the Palmetto State.
One thing that you'll be able to take advantage of with your family vehicle in tow is all the great restaurants and eateries which dot the State of South Carolina. The real draw of South Carolina cuisine is the Lowcountry cuisine typically associated with both the state and the Georgia coast. With a heavy focus on seafood and a taste akin more to Cajun and New Orleans cuisine than traditional Southern fare, Lowcountry cuisine focuses heavily on the abundant and tasty seafood off the coast of the Palmetto State.
Some of the amazing highlights of South Carolinian Lowcountry cuisine include the hearty catfish stew, a turtle soup called cooter soup, sweet potato and crab soup, shrimp and grits, the mouthwatering Brunswick stew, crab cakes, and oyster roast. South Carolina also has a very healthy barbecue community and a wide variety of international options in bigger cities such as Charleston and Columbia.
All this talk about food has us thinking about sports. Who doesn't like pigging out on tasty and intriguing cuisine and watching sports? While South Carolina doesn't technically have a professional team in the four major American sports, the Carolina Panthers of the National Football League are considered by many South Carolinians as their home team. Despite playing their games in North Carolina, the Panthers have made it clear that they want to represent the entire Carolina region.
South Carolina does have a multitude of minor league teams in a variety of different sports. It's also home to Darlington Speedway just to the northwest of Florence – one of the first tracks to be added to the NASCAR schedule and the first paved speedway in NASCAR as well. And if you're more of the type to play sports rather than watch, just know that the Palmetto State is well known for its gorgeous golf course and ample opportunities for enjoying different water sports off the coast.
One thing we have yet to mention is collegiate sports. South Carolina natives are extremely passionate about collegiate sports, with the majority of sports fans in the state pledging allegiance to one of two programs – the South Carolina Gamecocks and the Clemson Tigers. The University of South Carolina in Columbia is the flagship of an eight-campus system within the state. Their football team regularly draws 70,000 to 80,000 fans a game to Williams-Brice Stadium in Columbia.
The Clemson Tigers play in a different conference but are arguably a much more successful program, especially with national championships in college football to their credit in recent years. Clemson University has students from all 50 states and 70 different countries, and it also serves as the home for the majestic South Carolina Botanical Garden.
If you're heading to the Palmetto State with designs on continuing your education, the University of South Carolina and Clemson University are great options. However, there are many more standout schools for you to consider. Other top universities and colleges in the state include the College of Charleston in Charleston, Furman University in Greenville, Wofford College in Spartanburg, Erskine College in Due West, Lander University in Greenwood, Newberry College in Newberry, Winthrop University in Rock Hill, South Carolina State University in Orangeburg, and Coastal Carolina University in Conway near Myrtle Beach.
Now that we've given you a detailed look at the goings-on of South Carolina, it's time to beef up your trivia knowledge about the Palmetto State. Let's begin with a look at the different living and inanimate symbols of South Carolina:
Education
State Bird – Carolina Wren
State Amphibian – Salamander
State Fish – Striped Bass
State Insect – Carolina Mantis
State Flower – Yellow Jessamine
State Butterfly – Eastern Tiger Swallowtail
State Reptile – Loggerhead Sea Turtle
State Mammal – White-Tailed Deer
State Tree – Sabal Palmetto
State Dance – Carolina Shag
State Foods – Peach, Collard Greens, Boiled Peanuts
State Rock – Blue Granite
That's just a little taste of the South Carolina fun facts that we have to offer. Below are some intriguing and entertaining trivia nuggets about the Palmetto State:
Did you know that South Carolina was known as the "Iodine State" for a short time? It was an effort on the part of the South Carolina Natural Resources Commission to inform citizens about the high amounts of the element found in the state's vegetables and fruit. The nickname was even on South Carolinian license plates for a little while.
Charleston has been dubbed "The Holy City" by many thanks to its over 400 different churches and places of worship.
The first shots of the Civil War were fired at Fort Sumter in South Carolina on April 12, 1861. The fort is now an extremely popular tourist destination and a national monument.
No monkeying around, but Morgan Island is home to over 4,000 rhesus monkeys. Also called Monkey Island, the island is not for tourists. The only people allowed on the island are the researchers who use the monkeys for various tests.
The art of tattooing may be extremely popular all over the United States now, but it was illegal in South Carolina until 2004. Before then, residents had to travel out of state for legal tattoo services.
Shipping your truck, car, or van with Nexus Auto Transport is an essential move if you truly want to experience the Palmetto State in all its glory. From the gorgeous waters just off Myrtle Beach to the sights and sounds of Charleston and Columbia, your family vehicle is your key to enjoying South Carolina for all it's worth. And believe us, it's sure worth a lot.

X
For the best price quote for a personalized multi car shipment, please give us a call:
224-218-2949