Reliable and efficient vehicle shipping to or from Georgia
Get instant car shipping quotes to or from Georgia. We'll make sure you have all the vehicle shipment information you need and that you get a fair shipping quote.
Nexus Auto Transport is an industry leader in safe and efficient car & truck shipments to and from Georgia
Shipping your car or truck to or from (Georgia) has never been easier. When you need to ship a car, truck, or specialty vehicle out of or into Georgia, you can breathe easy knowing that our expert vehicle shipping staff is on your side. We've got decades of in-house experience shipping a variety of different cars and trucks, and we only work with the safest and most dependable auto transporters on the road.
When it comes to vehicle shipments in Georgia, we're the best thing going. Vehicle pickups and deliveries in every corner of Georgia. We work with you!
Do you need your car picked up from your house in Georgia? Are you shipping your truck to your workplace in Georgia? Do you have special considerations and concerns about your prized muscle car?
Whatever the situation is and what vehicle transport questions you have, we have answers. We'll work both hard and smart to deliver your car, truck, or specialty vehicle from on your terms!
How it works
Car shipping simplified to 3 easy steps
Learn more about the great State of Georgia
A true gem of the American South, the State of Georgia is currently the 8th most populous state in the Union with an estimated 10,617,423 residents. That's an impressive fact considering that the Empire State of the South is just 24th in total area at 59,425 square miles. While the state's most populous city, Atlanta, ranks just 34th in the nation with a population of 506,811, the Atlanta area itself is much more packed in than that.
In fact, the entire Atlanta Metropolitan area has a population over 6 million people. When it comes to major metropolitan areas within the United States, it's the ninth largest. That's massive for a state which has a lot of smaller towns with sparse populations in the outlying areas of the state. Covering the final nine states which round out the top ten most populous in the Peach State, you'll notice several cities which are technically within that Atlanta Metropolitan bubble:
Augusta-Richmond County
201,463 residents
Columbus
196,670 residents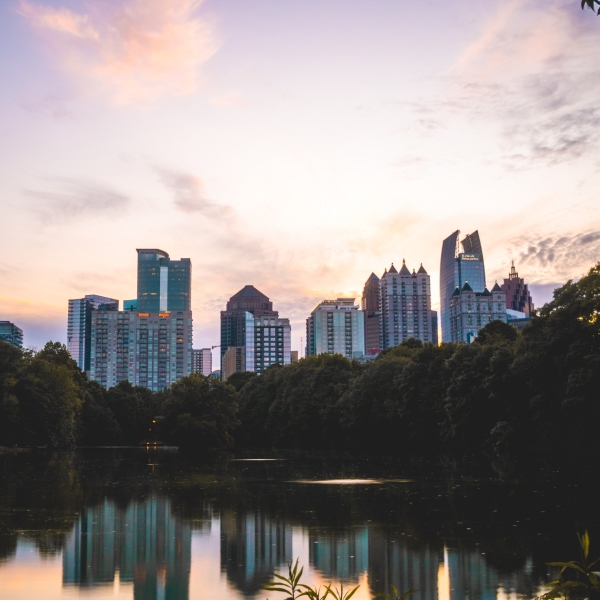 Macon-Bibb County
153,490 residents
When talking about the changes in the South over the past few decades, there's no bigger emblem of where the South is going than Georgia. It is the pinnacle of industrial growth with the South, functioning as both the primary transportation hub and main distributor of major goods in the Southeastern United States. If you're planning on moving to the South and are looking for a state with ample job opportunities within a wide swath of industries, the Peach State is definitely calling to you.
From a manufacturing standpoint, Georgia is a national leader in the production of processed chicken products, tufted textiles, and board and paper products. It doesn't stop there with the Empire State of the South, though. Georgia also ranks high in the nation in the production and distribution of tens of different food products, apparel, chemical, and transportation devices. Anybody who has experience in the manufacturing sector is going to have a gold resume within the borders of Georgia.
Agricultural products are also a major source of revenue for the Peach State. Did you know that 74.4% of the United States domestic supply of turpentine and resins are produced from Georgia's countless pine trees? If you're using resins or turpentine for household use anywhere within the Continental United States, there's a really good chance that they were initially produced in and distributed from the Peach State. Other inedible agricultural exports which Georgia produces en masse include bauxite, barite, kaolin, and marble.
That's not all for the agricultural splendor of Georgia. Well known for its peaches, its actually peanuts which are the prime food export of the State of Georgia. In fact, Georgia produces over twice as many peanuts than any other state in the Union. Other agricultural products which Georgia produces in mass quantities include soybeans, eggs, tobacco, cotton, and various corn products.
Are you looking for things to do and places to go within the Empire State of the South? Might we suggest the Georgia Aquarium – a sprawling indoor aquarium which actually serves as the world's largest! Unbelievably, over 100,000 different animals make their home at the Georgia Aquarium. And if you're looking for the only whale sharks in captivity anywhere outside the continent of Asia, look no further than Atlanta's world-famous Georgia Aquarium.
That's not all for what's a burgeoning tourist industry within the Peach State. Other top tourist attractions in Georgia include the Okefenokee National Wildlife Refuge, the Chickamauga and Chattanooga National Military Parks, Andersonville Prison Park and National Cemetery, Sea Island, Confederate Memorial at Stone Mountain, Kennesaw Mountain National Battlefield Park, and the Cumberland Island National Seashore. And if you are looking for a true slice of American history, you can visit the Little White House at Warm Springs where Pres. Franklin D. Roosevelt passed away from polio complication back in 1945.
Are you a true foodie? Do you love anything and everything barbecue? Anywhere you go in the State of Georgia, there's a really good chance that you're going to find one of the best barbecue joints you've ever tasted. The cool thing about Georgia is that it's a meeting point for all kinds of different regional takes on barbecue, which means you'll be able to find everything from Kansas City style to Memphis style somewhere within Georgia – especially in the Atlanta Metropolitan area.
That's not all for food in Georgia, however. Atlanta is a truly international city with a diverse citizenship. One beautiful thing about that is the cuisines from all over the world which have found a home in Atlanta proper and the cities surrounding it. Some of the most highly-related and well-regarded restaurants in the world are associated with Atlanta, and they serve cuisines ranging from traditional American to fusions of Chinese, Korean, and many other different regional foods.
You know what goes well with great food? Sports! The city of Atlanta alone has three professional sports teams across the four major American sports. But, what's truly king in the state of Georgia is collegiate athletics. The Southeastern Conference is one of the premiere conferences in college sports, and they hold several of their championship games in the state of Georgia. In addition, both the city of Athens is home to one of the most rabid fan bases in all of college football, along with one of the coolest gameday experiences you'll ever be a part of.
Known as the "The World's Largest Cocktail Party," University of Georgia home football games are an absolutely different world. The stands are full of electricity (and adult beverages), and there's even hedges flanking the field which had a strange and cool bit of Georgia mystique to the games. If you are a sports fan of any import and are moving to the state of Georgia, you need to circle a Saturday afternoon or evening at Sanford Stadium on your to-do list.
Speaking of education, there are over 130 different institutes of higher learning in the state of Georgia. 85 of those are universities, technical colleges, and public college. The aforementioned University of Georgia in Athens was established in 1785 and stands as the oldest state-chartered university in the United States. To this day, the University of Georgia is credited as the starting point for higher education in the United States.
Now that you're acquainted with the Peach State from a litany of angles, it's time to beef up your trivia knowledge about the state. If you're planning to move to Georgia and want to impress family, friends, and locals with your knowledge about the Empire State of the South, we're here to help. Let's first dive into the official living and inanimate symbols of the State of Georgia:
State Amphibian – American Green Tree Frog
State Bird – Brown Thrasher
State Fish – Largemouth Bass
State Reptile – Gopher Tortoise
State Tree – Southern Live Oak
State Flower – Cherokee Rose
State Folk Dance – Square Dance
State Motto – "Wisdom, Justice, Moderation"
That's not all for interesting trivia about the Peach State. Here are some other really cool trivia nuggets about the state of Georgia:
Looking for a little bit of political oddness to talk about at your next Georgia dinner party? Did you know that the Peach State has actually had three governors in office at the same time twice during its history? Talk about political intrigue!
Georgia is home to the largest swamp in all of North America. The Okefenokee is a true sight to behold, and it seems like it goes on forever when you're smack dab in the middle of it.
Wesleyan College in Macon was the first college in the entire world to grant official degrees to female students.
You have you pick of 159 different counties in the State of Georgia. East of the Mississippi River, there is no state with more.
Looking to pig out? The biggest wild hog ever recorded was discovered in Alapaha, Georgia. This monster hog weighed a jaw-dropping 1,000 pounds and was 12 feet tall from tail to snout. After it was discovered, the hog was dubbed "Hogzilla" by the locals in Alapaha.
And finally to cement your trivia knowledge about Georgia, did you know that Elberton is referred to as the "Granite Capital of the World?" They export more granite than any other city in the United States.
Well, what are you waiting for? Shipping your car, truck, or van with Nexus Auto Transport is your key to discovering all that the Peach State has to offer. Georgia is known for great food, fantastic nightlife in places like Atlanta and Savannah, and a charm all of its own. With your vehicle in tow, you'll be able to drive down the Empire State of the South's scenic highways and byways and experience that charm for yourself.