Reliable and efficient vehicle shipping to or from Massachusetts
Get instant car shipping quotes to or from Massachusetts. We'll make sure you have all the vehicle shipment information you need and that you get a fair shipping quote.
Nexus Auto Transport is an industry leader in safe and efficient car & truck shipments to and from Massachusetts
Shipping your car or truck to or from (Massachusetts) has never been easier. When you need to ship a car, truck, or specialty vehicle out of or into Massachusetts, you can breathe easy knowing that our expert vehicle shipping staff is on your side. We've got decades of in-house experience shipping a variety of different cars and trucks, and we only work with the safest and most dependable auto transporters on the road.
When it comes to vehicle shipments in Massachusetts, we're the best thing going. Vehicle pickups and deliveries in every corner of Massachusetts. We work with you!
Do you need your car picked up from your house in Massachusetts? Are you shipping your truck to your workplace in Massachusetts? Do you have special considerations and concerns about your prized muscle car?
Whatever the situation is and what vehicle transport questions you have, we have answers. We'll work both hard and smart to deliver your car, truck, or specialty vehicle from on your terms!

How it works
Schedule a car shipment online or over the phone.
Schedule a vehicle shipment with Nexus and you'll be surprised at how easy it is! All you have to do is enter your car pickup and car delivery zip codes in our online car shipping quote tool (or give that information to one of our dedicated vehicle transport agents), select your vehicle type and size, choose between open or enclosed auto transport, and pick from a variety of different car shipment scheduling dates.
You're bound to find a fair shipping rate that works for you, or you can pay a bit more for expedited enclosed vehicle transport. It all depends on your needs and the driver availability of our network of car haulers. Reserve your car shipment with a refundable $0 reservation fee. Our low-risk car delivery service is suitable for any budget.
We pick up your car and the vehicle transport journey begins.
One of our expert Nexus auto transport coordinators will work with you to arrange a vehicle pickup date and time which works best for you. When you ship a car direct with Nexus, we do our very best to work around your schedule!
Just prep your vehicle for car hauling by cleaning it inside and out, removing valuable personal items, and making sure there's at least a quarter tank of gas for loading and unloading it off of the car hauler. On car pickup day, you or someone you authorize through Nexus will inspect your vehicle with your driver to notate preexisting damages and other concerns. Once the Bill of Lading and the inspection report are signed, your car will be on its way!
Our car hauling service delivers your vehicle to its destination.
You can contact your car transporter at any time during your vehicle shipment to ask questions about arrival times and anything else that may be on your mind. Our vehicle transport truckers go through rigorous safety and procedural training to ensure that your car is safe every step of the way!
The vehicle transport hauler will come as close to your address as safely and legally possible. Any balance due on your vehicle shipment can be paid to your trucker upon arrival. You or someone you appoint will conduct a final vehicle inspection, sign off on a Bill of Lading, and you're done! Shipping is complex with other car moving companies. But, it's as simple as 1, 2, 3 with Nexus.
How much does it cost to ship a car to or from Massachusetts?
The cost of Massachusetts car shipping will vary based on specific shipping factors which include the total distance of your Massachusetts auto transport order, the month or day you ship, the make and model of the car you're shipping, your scheduling flexibility, your choice of open or closed transport services, and the company you pick for Massachusetts car shipping services.
When you choose Nexus for Massachusetts auto transport services, you'll reap the rewards of working with a top-rated Massachusetts auto transporter. And thanks to our instant Massachusetts auto transport cost calculator, you can secure reliable Massachusetts car shipping services within seconds -- all at a price that works with (and not against) your budget.
That's the Nexus advantage. And that's what you should expect from the best of the best Massachusetts auto transport companies.

What's the best way to ship your car to Massachusetts?
The best way to ship a car to Massachusetts is with Nexus, no question. When it comes to auto transport, Massachusetts shipping companies and nationwide providers are all competing for your hard-earned money. Nexus doesn't just compete. We provide our customers with top-rated auto transport services tailored to your schedule and shipping needs.
No other Massachusetts car shipping company balances customer service, timely and safe transport, and affordability like Nexus does. And for just $75, you can reserve your spot right away and experience our five-star auto transport services for yourself.
There's no need to wait. Our online car shipping cost calculator is just a click away!

Learn more about the great State of Massachusetts
Officially referred to as the Commonwealth of Massachusetts, Massachusetts also has five different official nicknames – The Bay State, The Puritan State, The Pilgrim State, The Old Colony State, and The Baked Bean State. Massachusetts is the 15th most populous state in the Union with an estimated 6,949,503 residents. That's a 5.3% increase over the population count from the 2010 Census.
The capital of Massachusetts is also its biggest city and one of the most famous cities in all of the United States. Boston is home to an estimated 710,195 residents, good for the 21st largest city in the nation. The Greater Boston metropolitan area is one of the more densely populated metro areas in the United States, and it's also functioned as a nerve center for advances in education and industry. In addition, Boston has strong and unique historical relevance in regards to both before and after the American Revolution.
However, Boston isn't the only city in the Bay State worth checking out. Below are the other nine cities which round out the top ten most populous in Massachusetts: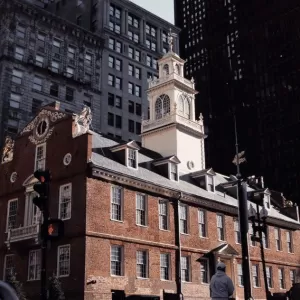 Worcester
(186,433 residents
Springfield
155,472 residents
Cambridge
121,783)
If you're heading to Massachusetts looking for work, you may be in luck! In fact, Massachusetts is one of the wealthiest states in the Union per capita and boasts a diversified economy with a wide variety of profitable sectors. The economy of Massachusetts is buoyed by sectors which include higher education, health care, finance, biotechnology, information technology, defense, and manufacturing.
Speaking of manufacturing, Massachusetts derives less than 10% of their Gross State Product from production and exporting. However, it's still in the top third of the nation in total manufacturing output. Factories in the Bay State turn out an impressive spread of goods including paper goods, chemicals, medical equipment, plastic goods, telecommunications devices, machinery, and electronic goods.
Are you a fan of cranberry sauce or are you more of a fresh cranberry person when it comes to Thanksgiving dinner? Whatever you choose, there's a good chance that the cranberries you're eating came from Massachusetts. The state is the second largest producer of cranberries in the United States behind Wisconsin. Other agricultural products which are key to the Massachusetts economy include greenhouse goods, sweet corn, and apples.
Another huge contributor to the Massachusetts economy is tourism. Massachusetts is a hotbed of historical relevance, playing host to some of the most pivotal events in United States history. From the American Revolution to the abolitionist movement, Massachusetts has been the background for many different turning points in the nation. It's also where the genesis of American art and media really took place.
All of this historical weight is a huge reason why outsiders from within the United States and around the world flock to Massachusetts to visit. Whether it's to check out the John F. Kennedy Library and Museum in Boston or the Plimoth Plantation in Plymouth, tourists come to Massachusetts to reckon with history while also experiencing the modern delights of a technologically-advanced state.
Other key tourist attractions within Massachusetts include Old Sturbridge Village in Sturbridge, Minute Man National Historical Park which lies between Concord and Lexington, and Bostonian highlights such as the Old State House, Faneuil Hall, Old North Church, and the USS Constitution. And if you want to get away, Massachusetts also has 450,000 acres of state parks and forests for you to explore.
While Boston has a really reliable subway system and bus systems around the state are generally just as easy to use, it's still much more efficient to have your own vehicle in Massachusetts. There are many main highways, byways, and thoroughfares within the state which will connect you to gorgeous scenery in the state (such as Cape Cod) and other states in the Northeast. If you're looking to travel between Boston and New York, there's also Amtrak trains which outperform commercial flights when it comes to moving folks from one city to the other.
Speaking of Boston and New York, some of the greatest sports rivalries in professional sports come from this regional connection. The Boston Red Sox and New York Yankees are perhaps the most storied rivalry in American professional sports, and the fan bases of these two Major League Baseball teams get into the action in a way that's akin to some of the more fervent soccer fans around the world.
Massachusetts has a unique and storied sporting legacy. It has four professional teams in the four major American sports, all of which have won a championship in their respective leagues in the past two decades – the Boston Bruins (National Hockey League), Boston Celtics (National Basketball Association), Boston Red Sox (Major League Baseball), and New England Patriots (National Football League).
The state is also the birthplace of two different sports. James Naismith took some peach baskets and created basketball at a YMCA in Springfield. Shortly after that, William G. Morgan invented a rudimentary version of volleyball at another YMCA in Holyoke. As you can see, the historical impact of Massachusetts spreads into many different facets of everyday life.
Speaking of essentials to everyday life, the food in Massachusetts is something else. This is especially true if you can make it out to Cape Cod or other coastal towns on the Atlantic. Fresh seafood is the name of the game at many restaurants in those areas, and the different clam and seafood chowders they make from the catches of the day are among the tastiest and most revelatory foods in American cuisine.
There's a huge European influence in Massachusetts cuisine stemming from the state's importance as a transportation hub during the time of the American colonies. Italian specialties such as cannolis intermingle with United Kingdom staples such as fish and chips to create a smorgasbord of tasty foods for you to try out. And speaking of sports, you haven't really done Massachusetts right as a sports fan unless you try a Fenway Frank while watching a Boston Red Sox game at the majestic and unique Fenway Park.
And if you're heading to Massachusetts with hopes of continuing your education, you are choosing arguably the best state in the Union for that. Massachusetts has 114 universities and colleges within its bounds, and it's the home of some of the most storied and respected institutions of higher learning in the world. The two most obvious examples of this are Harvard University in Cambridge and the Massachusetts Institute of Technology also in Cambridge.
Massachusetts is also home to three of the top five liberal arts colleges in the United States according to a recent U.S. News and World Report ranking – Williams College in Williamstown, Amherst College in Amherst, and Wellesley College in Wellesley. Other notable universities in the state include Boston College in Chestnut Hill, Tufts University in Somerville, and Brandeis University in Waltham.
Now that you've got a really good feel for what Massachusetts is all about, it's time to boost your trivia knowledge about the Bay State. Let's first look at some of the official living and inanimate symbols of the state:
State Birds – Wild Turkey, Black-Capped Chickadee
State Mammals – Right Whale, Morgan Horse, Boston Terrier, Tabby Cat
State Tree – American Elm
State Reptile – Garter Snake
State Mineral – Babingtonite
State Beverage – Cranberry Juice
State Colors – Blue, Green, Cranberry
State Gemstone – Rhodonite
State Fossil – Dinosaur Tracks
That's the not the only trivia goodness we have for you about the historic State of Massachusetts! Below are some other intriguing and mind-blowing facts about the state:
The oldest public park in the United States is in Massachusetts! If you're in Boston, head on over to Boston Common. It's been a gathering place and place for respite since 1634.
While there are definitely plenty of awesome pubs and bars for you to check out in Boston, don't expect any Happy Hour deals. Why? Well, Happy Hour price drops have been outlawed in the city since 1984.
If you've ever watched a game at Fenway Park or have seen one on television, you're familiar with the giant left-field wall known in sporting circles as the "Green Monster." The wall and the color of the stadium's surrounding areas are so iconic that the Boston Red Sox actually patented the color as "Fenway Green."
Willy Wonka, eat your heart out. The first chocolate factory in the United States was opened in the Dorchester neighborhood in Boston.
When you ship your car, truck, or van to Massachusetts with Nexus Auto Transport, you will have the key to so many amazing sights and sounds in the Bay State. Whether you're heading to a sporting event in Boston or checking out the majestic splendor of Cape Cod, your vehicle will get you everywhere you need to go to experience Massachusetts for all it's worth.

X
For the best price quote for a personalized multi car shipment, please give us a call:
224-218-2949